To some, 'RV'ing' is like a religion, and its mythic stature in North America has even inspired Hollywood movies. 'RV'ers' enjoy the best of all possible worlds: adventure, freedom, predictability, comfort, and even the company of their dog. Many say that 'RV'ing is camping at its best: With their home on wheels, they enjoy their own bed and home cooking every night, and often park in some of the most scenic and lovely places the road can take you. If you are visiting British Columbia, and want to enjoy this pleasure for only a week or two per year, renting an RV is an easy and cost effective alternative to other forms of holiday travel and accommodation. The popularity of this form of travel is reflected in the abundance of RV parks in British Columbia.

RV parks specialize in providing everything you will need: AC power, water and sanitation service; laundromats, grocery stores and Internet connection; restaurants, fitness centres, and even swimming pools. Reservations are often recommended, so planning a stress free holiday is easy.


Total listings: 1 Showing: 1-1
Page:

[1]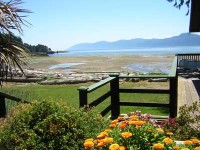 Come for a Relaxing Getaway. Meet up with family, friends or just a romantic getaway. Festivals, activities, beachcombing. Lots of wildlife, beautiful gardens. Ten Spacious fully equipped units, home away from home. wifi, cable.