One advantage of being a province with a strong economy, an expanding population and tourist appeal, is that the choice of fine dining continues to grow. Even the most discerning of palettes will find a restaurant that meets and probably exceeds their expectations. The diverse cultural influences and culinary open-mindedness that are evident throughout the province have been an inspiration to Gourmet Chefs who settle here from all over the world. Whether you are in search of the ultimate Chausson de Sole à la Truffe, Teppan-yaki Steak, Rack-of-Lamb, or Strawberry and White Chocolate Cheesecake, you will find it somewhere in British Columbia.

Total listings: 1 Showing: 1-1
Page:

[1]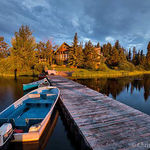 Eagle's Nest Resort overlooks beautiful Anahim Lake, with spectacular Tweedsmuir Park on our doorstep.