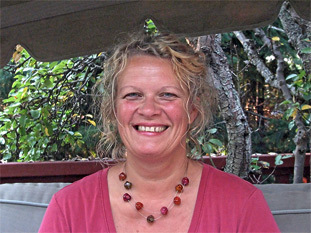 I AM UNFORTUNATELY UNABLE TO TAKE ON NEW CLIENTS AT THE MOMENT!
I will remove this text when I have more capacity.

Mobile Esalen Massage

After a relaxing massage, why have to undo the positive effect by heading back out into the stress you just escaped from?
With mobile massage at your home, the healing comes to you, and the effect goes deeper and lasts longer...
Alternatively, you may know someone unable to make the journey to a massage session. This is a great gift for someone in this position.

Roswitha has been a Certified Esalen Massage practitioner since 1997.
Previously she was an Occupational Therapist with 18 years of practice, 5 of them running a school for Occupational Therapy in Bonn, Germany.
Esalen Massage is known for its long, integrating strokes, and for its ability to support deep physical and emotional release.

The principles and movements of Esalen Massage are derived from classic Swedish massage, but the practice has been influenced by Feldenkreis, Rolfing, Trager, Acupressure, and a variety of other disciplines. All of these approaches share a basic trust in the body�s natural ability to heal itself.

Its focus is not so much on relieving muscle tension or increasing circulation as it is on creating deeper states of relaxation, beneficial states of consciousness, and general well-being.

At the heart of the session is a sense of empowering each individual to regain a sense of harmony, reverence, and balance, and to awaken inner resources for healing.

The massage lasts one hour.

It is recommended to plan some extra time afterwards to bask in the glow!