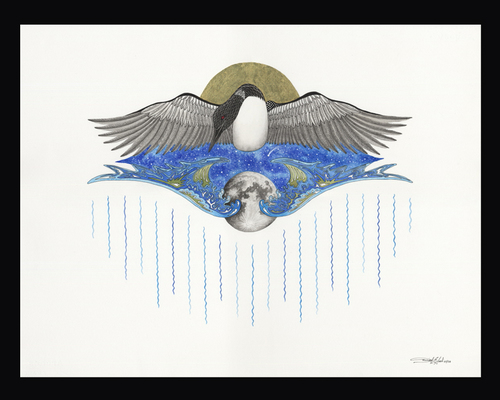 On a Wing like Wave,
30 X 20 Inches
Watercolor and ink on paper
2008

Recently I returned from a solo show in Tokyo Japan that opened November 5th and closed November 29th 2008. The head Shinto priest of the Tanashi Jinja Shrine, gave me the incredible honor of being the first foreign artist to ever exhibit art in a Japanese shrine.
The Exhibition took place in the Honden (sanctuary) of the Tanashi Jinja Shrine located in the Nishitokyo area of Tokyo City.
To see more photos of my art, CV, written word and related links, click link to www.danielesali.blogspot.com at bottom of page.
In May 2009, I will be part of a two person show featuring the work of Linda Jane Schmid and myself, Daniel E. Sali. This show will open May 8th at the Collective Works Gallery at 1311 Gladstone Avenue, Victoria BC.
Go to www.collectiveworks.ca for more information.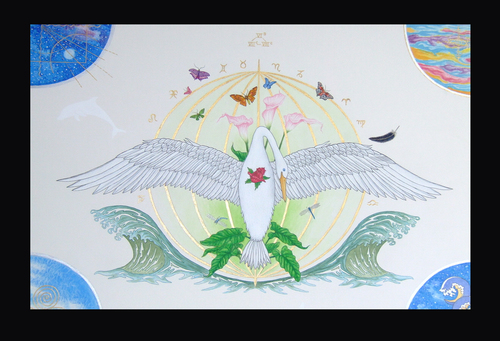 As Above So Below
Watercolor,ink and acrylic on paper
2007

I think of reality as being comprised of infinite layers, spaces between and interconnections. I visually utilize these elemental states, layers, and interconnections, seeking to unite them into a temporary unity of beauty and harmony
In my work I have an interest in exploring the spaces between and within. The space in-between connects all things, makes all things possible. In reincarnation, it is believed that the Bardo is the space between one state of being and the next. Spoken and written languages require space between words for the messages to be understood. Meditation is the space between thoughts, and the space within…the quiet solitude where our conscious and subconscious selves can meet...this solitude is the place where soul, life, spirit, space and time become one.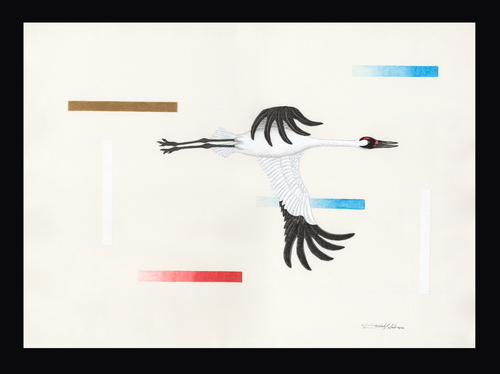 Whooping Crane
Acrylic,ink and watercolor on Paper
2008

The images I create in my work advocates the need for a spiritual and personal balance, that is in harmony with nature.
In the Focus Magazines February edition 2007, Brian Grison wrote - 'Sali's use of colour, pattern, shapes and form is symbolic and prayer-like, in the sense of the vision quest …his work is a product of many years of dedication to developing a personal vision that is rather outside contemporary concerns in art theory.' Brian Grison – Focus 2007
The Japanese and Canada's First Nations art and cultures have from an early age influenced my thinking and my art. In both my 2002 and 2008 Japan exhibitions, gallery visitors often told me, "You have a Japanese heart." I am honored that they should think so.
I work primarily with watercolor, ink and acrylic mediums on archival paper, to achieve my detailed expressionist imagery.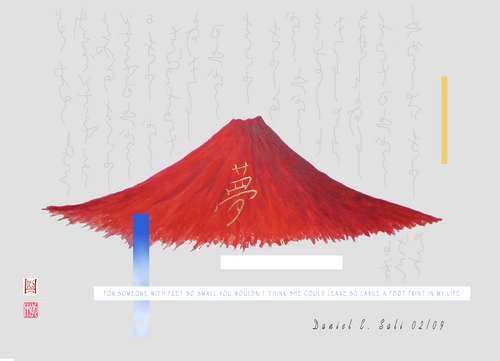 'Dreaming Mount Fuji I'
Red Fuji
2009
22 X 17 inch
Watercolor, acrylic
and 14k gold leaf
on paper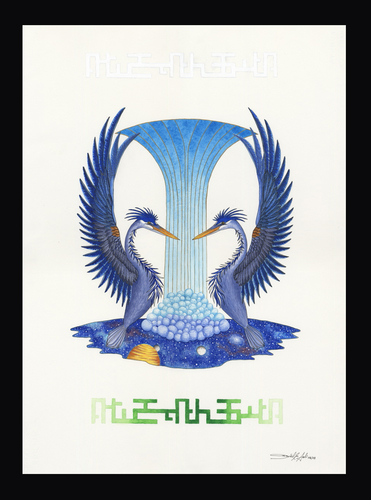 Heaven's Harp
Watercolor and ink on Paper
20 X 30 inches
2008