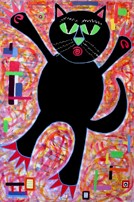 "You can feel the happy childlike energy in my paintings as I strive to capture vibrant colour, innovative form, and imaginative simplicity."

Born in Glasgow, Scotland, Dawn Joy is a self-taught artist who has experimented with various mediums throughout her life. She began her journey into painting 10 years ago.

Having a degree in accounting and marketing, Dawn Joy is a bookkeeper who has made a career of paying keen attention to details. In her art she connects with her inner child, creating happy, colourful and imaginative images, colouring outside the lines, conveying the essence and leaving the details far behind.

Commissions welcome. Cards, prints, fridge magnets available.