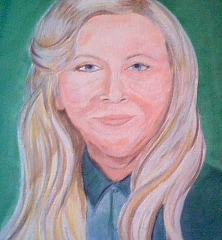 Ms. Flawith sang in church and school choirs from an early age, composing and performing solo folk music at Prince George's Knox United Church and on tour with the Prince George College Chorale. She began her voice studies with maestro Luigi Wood in 1990 and has trained privately in the Italian method since then. She coached with Bliss Johnston (Virago); attended Master Classes at the Vancouver Academy of Music with Phyllis Mailing; and trained with German-Australian tenor Gerhardt Zeller, Canadian soprano Catherine Lewis, and Canadian soprano Barbara Livingston.

Her credits include: Carmen, The Tempest, Lucia di Lammermoor (Pacific Opera Victoria), M'alachim (Western Concert Opera); The Magic Flute (Vancouver Academy of Music); Carousel, Brigadoon, La Cage aux Folles (Theatre under the Stars); Faust, Die Mutter (Theatrespace); Hair (Vancouver Musical Theatre); Kiss Me Kate (Victoria Operatic Society); Toad of Toad Hall (West Niner's/Ldn, Eng); and Puss & Boots (Metro Theatre).

Ms. Flawith began teaching group vocal lessons in January of 1996 and established her own vocal studio in May of that year. In Vancouver, she taught at the Kerrisdale and Dunbar Community Centres (1996 - 1998) and at the Burrard Music Studio (1996 - 2002). In 1997 she established and directed Gospel Voices, a popular 6-week performance workshop for beginning singers, which was held several times in Vancouver.

"I call myself "the shy singer" because that is precisely who I was and am. I have grown from the place of acute social phobia and extreme stage fright into the person I am today... and I attribute this personal growth to the study of singing. As I began to become aware of the things that inhibited my voice... I saw these same things inhibited me in life. The process of finding & releasing my authentic voice became also the process of finding and freeing my Self. We have art therapy, and music therapy... in my studio, we have 'voice therapy.'"

With over twelve years experience in teaching, and over eighteen years of training, Ms. Flawith is a well-respected teacher and mentor who passionately believes that everyone can sing, if they wish to... and if they are willing to do the work. She specializes in working with those who have always wanted to sing, but have felt too intimidated to try.

"I believe in helping my students to release/accept their own voices and sing with a healthy technique which can then be applied to a wide variety of styles. The act of singing often reaches deep into the soul, and our time together becomes part of a healing journey, a process of discovery and change, and a catalyst for confidence in speech and in song."

Besides teaching voice, Ms. Flawith is songwriter/composer for film & television. She specializes in world, techno-orchestral, electronica, and new age with a focus on creating music for sci fi, horror, suspense, drama and comedy. Over the past year she has signed over two dozen instrumental tracks to several different music libraries.

She gigs regularly with her folk trio, "Easy"; she also enjoys painting, photography, writing, and social networking.