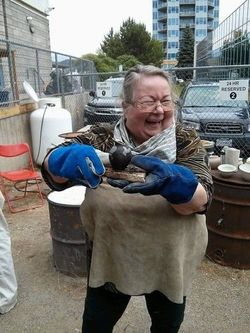 Bonnie Anderson, well-known artist and owner of Potters Addict Ceramic Art Centre, studied at the University of Calgary where she triple majored in painting, printmaking, and ceramics. Before coming to Kelowna, Bonnie worked as a ceramic art instructor for the City of Calgary from 1986-1990. In 1990, the lure of the Okanagan brought Bonnie to Kelowna with a dream and a goal of establishing a Ceramic Arts Centre.
Since then Bonnie has been teaching pottery to children, youths, adults, and seniors at Potters Addict. We are located in the Rotary Centre for the Arts 421 Cawston Ave Kelowna BC 250-763-1875 for more information.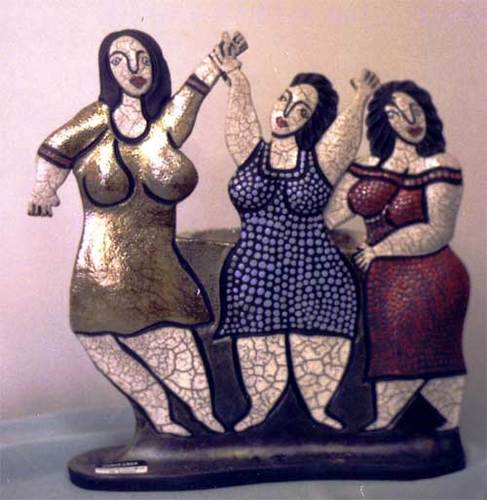 Bonnie Anderson's love of clay is most vividly shown in her hand-built clay creations which are finished in the ancient method of Raku. All of Bonnie's clay works, sculptures and paintings are manufactured and sold in her studio gallery at Potters Addict.
Potters Addict where even the professionals have started their career in ceramics here some have gone on to be well-known potters in the Okanagan Valley while others have opened their own Pottery and teach classes too.
Our Motto Come Play in the Mud With Us!
At Potters Addict we teach students from schools located all around the Okanagan Valley. Other programs can be viewed on our Web pages pottersaddict.com
Hope to see you sometime.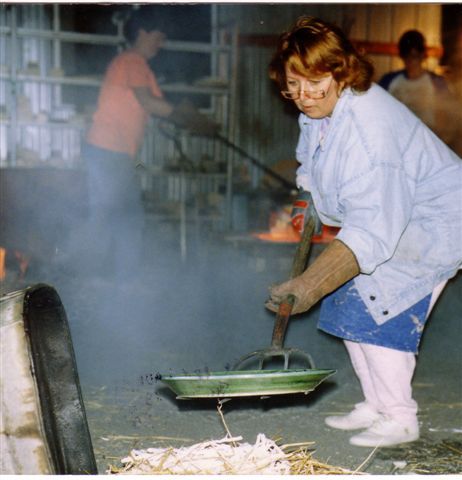 As an artist, Bonnie has a thorough knowledge of Raku and smoke firing techniques. Paint media, such as watercolour, oil, gouache and acrylic painting techniques along with woodblock, intaglio, silkscreen, lithography, and photography all showcase Bonnie's amazing talents. Bonnie's clay works and paintings are collected all over the world.
Artist Statement
I try to stay away from the "Traditional Styles" of ceramics, and enjoy creating funky Raku products. Picasso and Matisse have been a great source of inspiration for me and are reflected in much of my clay work. Women are the main themes of most of my work and women with a good sense of humor are those who appreciate and purchase it.
When I moved to the Rotary Centre for the Arts in 2002 I began to have an incredible yearning to pick up a paint brush and paint again. What else could I expect being surrounded by all kinds of painter personalities and their varied mediums?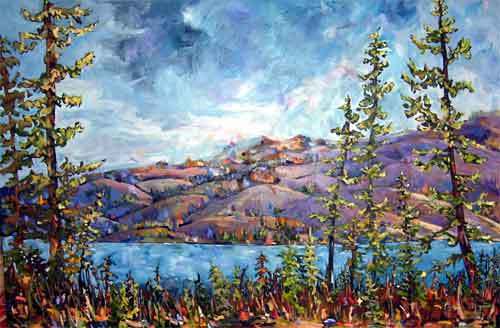 I am currently working on a series of landscapes using negative painting techniques on black canvas. (This is my black or dark period) But I must add this is one of the more enjoyable periods of my life and is not actually dark or black at all. I am also using negative glazing techniques on my latest line of porcelain ware which has motivated me to continue throwing again. It's great having more than one medium to occupy the mind and body for when one is at a low period in one medium another medium can be inspiring and uplifting. Going back and fourth can be a challenge but most of the time it's just plain fun. I just wish there were more hours in the day for me to play.

Member of Alternator Centre for Contemporary art
Okanagan Potter's Association, Director and active member
Kelowna Clay Festival Director and Volunteer coordinator
Kelowna Visual and Performing Art Centre Society.
Livessence, Society for figurative artists
The Kelowna Watercolour Guild, past member.
Federation of Canadian Artists, Active member
Arts Council of the Central Okanagan Painters Studio Active past member Summerland Arts Council