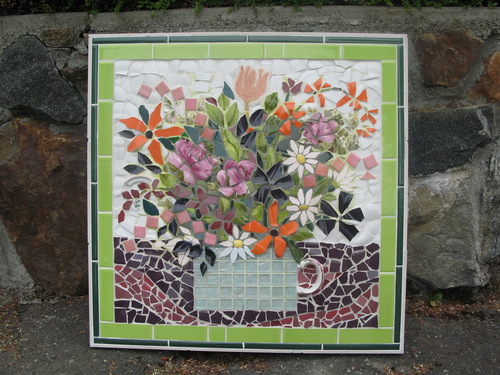 My mosaics are triple-sealed (the base before I start, front and back afterwards). They can be hung outside if they're under cover (a porch, an overhang, say, or a breezeway). Sun won't hurt them. Getting a bit wet won't hurt them, but getting continuually drenched is not a good idea. Freezing when wet is a bad idea, so I advise taking them in the the winter months. Of course, banging in the wind is a definite no-no.

This one sold at Glendale Gardens, where you can find me in the centre circle every August when they have their Art and Music Day. I will also beteaching a mosaic class at Glendale Gardens in March.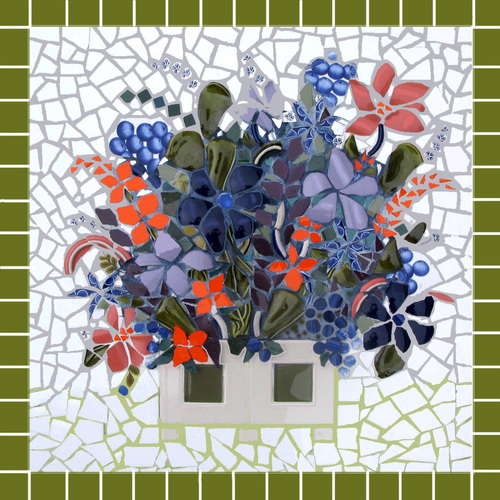 This is another one of my mosaic panels, which all measure 2 feet x 2 feet.
It's also triple-sealed so it can be hung outdoors (so long as it's under the eaves or in a breezeway, where there's a bit of shelter....getting wet and freezing or banging in the wind cracks the grout). This one also is made with a combination
of ceramic tiles and broken china.
Ideal for patios, porches, and beside swimming pools. NFS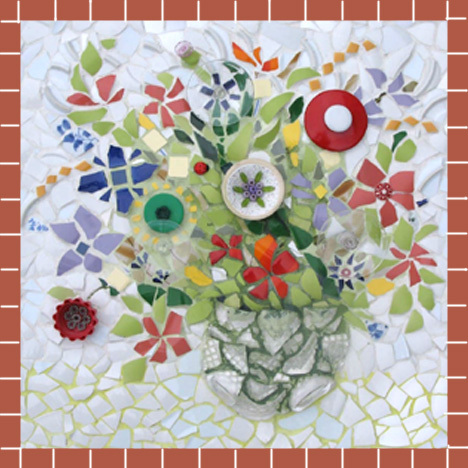 For this one, I used recycled Waterford crystal goblets (for the vase), tea-pot lids, pill-bottle lids, buttons, and, of course, broken china (the white backgound) and ceramic bathroom tile (the terra-cotta-coloured edge).
Price $500 (SOLD)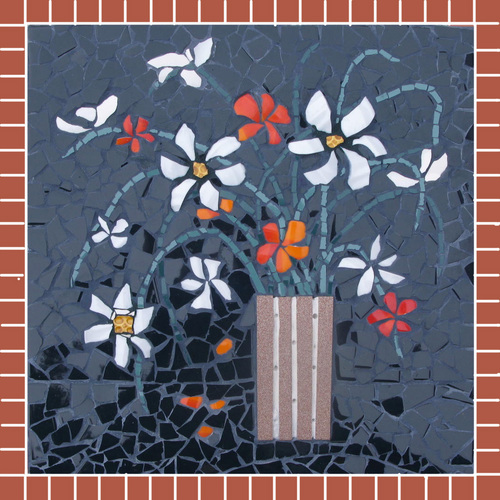 Another triple-sealed 2 ft. x 2 ft. mosaic panel.
Price $500

I love the way mosaics catch and reflect the light. They sparkle!
I do kitchen back-splashes for people as well. We talk about it, I come up with a design you like and make a maquette (paper pattern) so you can see what it would look like. Then we lay out the design on the wall, and I help get you started: you take it from there. You can see examples of kitchens I've designed on my website: anneswannellartart.ca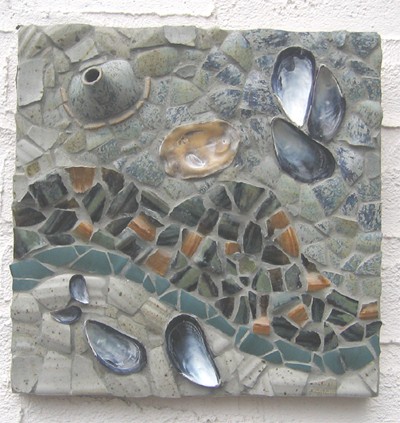 I like to help people feel better about breaking favourite plates, vases, etc. by incorporating them into mosaics. I also like to use found objects. In this case, I used a friend's broken teapot (see the spout there?) and sea shells from the beach near her house....she hung it in her bathroom.


I also paint.....abstracts. people walking in the rain, landscapes, mandalas....come see!
Children more than welcome.