I resided on the Queen Charlotte Islands (Haida Gwaii) for six years before coming to Victoria. The scenery is breath taking, varied and constantly changing. Being alone on a boat in one of the many remote coves one can hear the past.
Ravens seem to play a big part in many of my painting series. It wasn't only that they were fascinating to look at, their attitude, mannerism and behaviour reflect much of what we see in humans. The role that raven plays in tales told by people all over the world fills me with wonder.
The high latitudes are places of fierce beauty and outward permanence, but as vast as they seem they are as fragile as a delicate flower. It doesn't take much to upset the fine balance of existing or destruction.
Having spent a lot of time on boats makes one look at weather more often than land dwellers. I love clouds and water and they way they interact. It is one of the unifying forces any where in the world.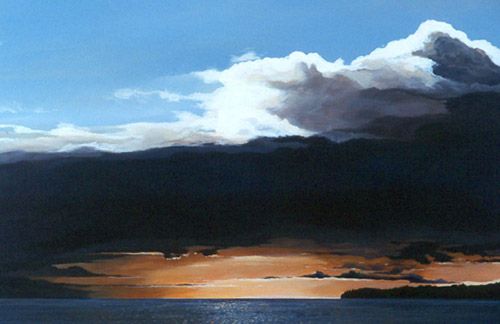 One of the later series, which I am still working on, explores the darker sides of death. Although the images originated in the severe deterioration of totems, it reflects much of man's history on this earth.