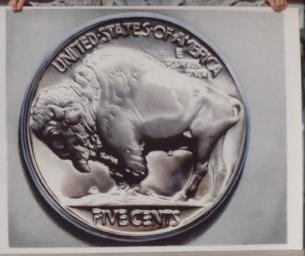 "BUFFALO" NICKEL
This mixed-media drawing of a 1 inch diameter metallic object is 2.5 feet round. It gives a new perspective to a commonly used but little noticed object. There is the possibility that coins may one day be as rare as the pictured bison...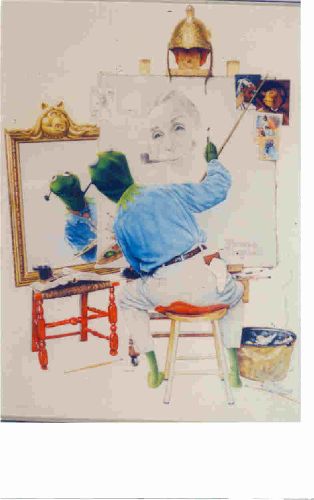 NOMAN FROGWELL
A unique combination of Wildlife Art,the entertainment industry and Illustration. After meeting Jim Henson in 1987 I was inspired to create The Art 'Pigstory' Parodies. This includes 'Mona Piga', 'Van Gonzo', 'Gertrude Swine', 'The Froger' and 'Statue of Kermid'.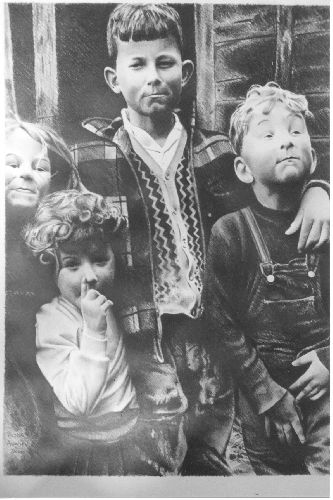 WHEN SHE WAS FIVE
Graphite portrait of a friend and her siblings. A great composition, I was immediately inspired. I've produced a lot of portraits over the years. In fact, my first one, in grade 5, was of the boy across the aisle. It is always extremely satisfying when my best efforts match a client's expectation.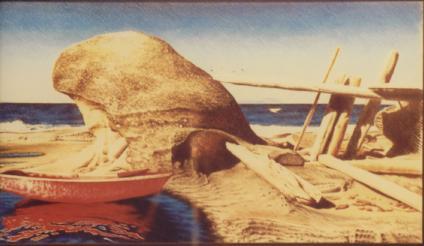 RED BOAT
I enjoyed the challenge of drawing the boat's reflection. This scene can be found at Berry Point, on Gabriola Island.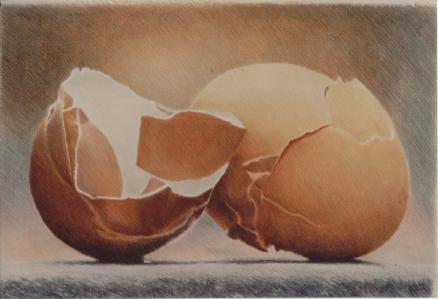 BROKEN
My breakfast ritual involves poaching eggs. The resultant debris sat patiently while I drew this image, 2'x 3'.