British Columbia Travel Guide

The unofficial BC Travel & Tourism Guide

Salmon Arm (population about 16,000) is located just east of Kamloops on the Trans Canada highway. It is big enough to provide all the services of a small city, yet small enough to retain the atmosphere and relaxed way of life common to all British Colombia towns.


One of Salmon Arms greatest virtues is a climate with distinct seasons but without extremes in either direction (neither as dry as the Okanagan nor as wet as the coast). Situated on one of the 'arms' of Shuswap Lake (the headwaters of the South Thompson River), the city's way of life is centered on water-based recreation. Residents and guests enjoy warm summer days on all sorts of watercraft, especially houseboats, as well as swimming, fishing and water skiing. Tours and rentals are easily available. The waters of the massive lake are deep and clear and of comfortable temperature. The nearby Adams River offers white water rafting on one of the worlds greatest salmon streams.

Much of the shoreline near the town is marshy and shallow. This provides habitat for a myriad of wildlife. A pathway from the town center follows the lakeshore and offers ample bird watching opportunities.

In winter, the bay rarely freezes right across but it is rimmed by ice for some distance from shore, making for easily accessible cross-country skiing, or snowshoeing.

The mountains around Salmon Arm are of moderate height, giving the valley an open and bright feel. Not far to the east, much bigger mountain ranges begin, including the Selkirks, Glacier National Park, and the Rocky Mountains. An exceptional cross- country ski area, Larch Hills, is only 20 km away. (overnight cabin rentals available). Silver Star ski Resort is only 1 hour to the southeast.

There are plenty of accommodation choices in Salmon Arm, from hotels with full banquet and conference facilities, to B&B's, motels, cabins and houseboats.

Enjoy Salmon Arm in every season, from the quaint downtown core, to the shimmering lake and forested hills.
Salmon Arm Accommodations
Salmon Arm Things to Do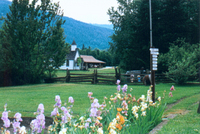 R. J. Haney Heritage Village and Museum is a 40-acre park owned by the City of Salmon Arm.