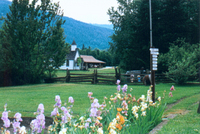 R. J. Haney Heritage Village and Museum is a 40-acre park owned by the City of Salmon Arm.

Chase & District Museum & Archives


Adam's River Salmon Society, Blair Acton, Chase
"Salute to the Sockeye" Struggling against insurmountable odds, 1 out of every four thousand eggs laid in the Adams River lives to returns as a spawning adult. Experience the majesty, beauty and tragically poignant life of the Pacific Sockeye Salmon.