Total listings: 2 Showing: 1-2
Page:

[1]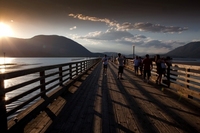 Shuswap Tourism Discover the Shuswap You could call it a place where you can stroll through alpine meadows, walk with your family through rolling trails, or step towards an inviting café. You could say it's where you can jump into incredibly warm


Adam's River Salmon Society, Blair Acton, Chase
"Salute to the Sockeye" Struggling against insurmountable odds, 1 out of every four thousand eggs laid in the Adams River lives to returns as a spawning adult. Experience the majesty, beauty and tragically poignant life of the Pacific Sockeye Salmon.