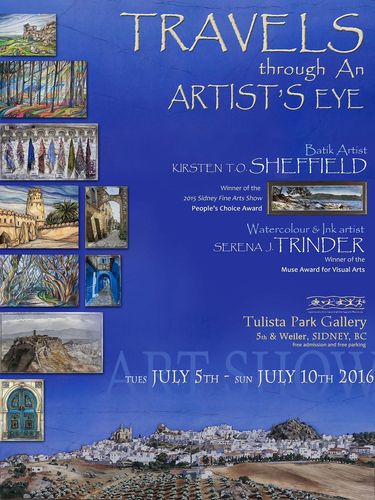 "Travels Through An Artist's Eye" is presented by Vancouver born artist Kirsten T.O. Sheffield and Dorset, England born artist Serena J. Trinder. Although both artist's have strong connections to Victoria, they live in the Fraser Valley with their families. This exhibit is a culmination of works inspired by the varied travels of both artists.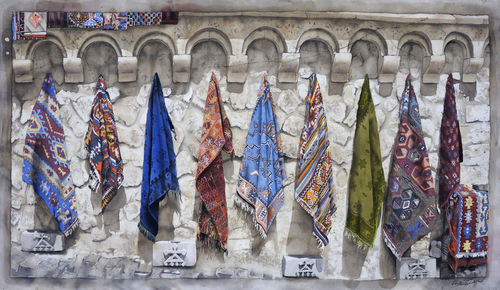 Kirsten's unique, painted Batik technique produces organic paintings particularly suited to the interplay of light and shadow, smooth gradations of colour and reflections on water. This collection focuses on scenery, architecture and cultural themes from the Mediterranean, specifically Turkey, Morocco, Spain, France and Italy.

www.wallsthattalk.ca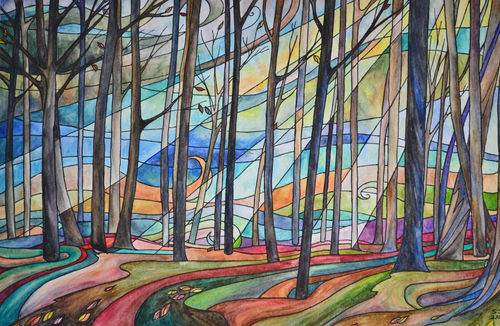 Serena's jewel-coloured Watercolour & Ink pieces are reminiscent of stained glass with intricate details woven together to produce pieces of art which hold the interest of the onlooker and draw them into the painting. For this exhibition, Serena explores similar subjects stemming from her travels to Tunisia, United Arab Emirates, her native England and her new home, Canada.

www.whisperedland.com
Although their mediums are very different, an alluring link between the two unique artists is their use of water and how it's fluid nature influences and inspires the direction of each piece. Both Serena (2015) and Kirsten (2013-2015) have successfully been juried into the Sidney Fine Art Show with Kirsten winning both the "Colin Graham Award for Innovative Work" and "The People's Choice Award" in 2015.