Hand made felt is one of the earliest forms of material. Adapting the ancestral techniques of the Desert Nomads this plush brilliantly coloured felt is made on site and crafted into wearable art, sweaters and vests, fiber sculpture, whimsical cats, wall pieces and Sheila's well known Gnome Knocker slippers (they're not allowed to match!!)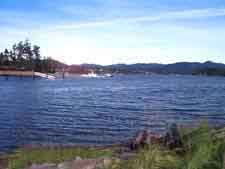 This historic house named after Constable Malcolm Matheson and his family who occupied the home from 1948-1951, has been lovingly refurbished to include a luxurious private retreat, a gallery and studio.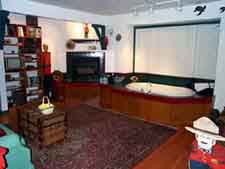 "The cheery artful decor and unique history of this delightful suite, converted from Sooke's original RCMP district court house and jail
Beautiful BC Travelers Magazine(Summer 1999)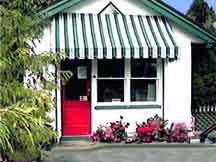 Tucked away behind the house is "Exhibit Room III" Gallery shop; a fiber works gallery featuring the innovative and colorful works of artist and host Sheila Beech.

So:
Welcome To Sladens Designs
"Exhibit Room III" Gallery ShopStart your Sooke adventures with a visit to "Exhibit Room III" gallery shop, a fiber works gallery featuring the unique work of artist Sheila Beech.

The felt making studio is in the basement of Constable Matheson's. Visitors are invited to see this arduous process of material making using wool and natural fibers.
The work is displayed in "Exhibit Room III shop and gallery. Also available is original knit wear by Emma Klavenes designs.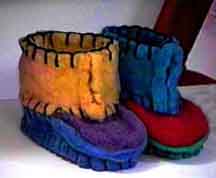 Hand made felt is one of the earliest forms of material. Adapting the ancestral techniques of the Desert Nomads this plush brilliantly coloured felt is made on site and crafted into wearable art, sweaters and vests, fiber sculpture, whimsical cats, wall pieces and Sheila's well known Gnome Knocker slippers (they're not allowed to match!!)