Saturday Oct 08, 2011 - Monday Oct 10, 2011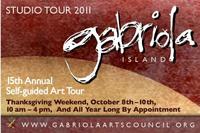 Join us for the Thanksgiving weekend, October 8-10, 2011, 10am-4pm as artists welcome visitors for the 15th annual Gabriola Studio Tour! Featuring more than 60 artists in 42 studios, this free, self-guided tour clearly demonstrates why Gabriola deserves its unique reputation as the "Isle of the Arts." Our full-colour brochure with map, available on-line or in print, is a showcase of fine literary and visual art, oil, acrylic and watercolour paintings, giclées, mixed media, photography, one-of a kind fashions, leatherwork, semi-precious silver and beaded jewellery, pottery, stonework, wood carvings, sculpture, glasswork, and unique items for your home and garden.All of the studios will be open over the three days from 10 a.m. to 4 p.m., providing access to the largest configuration of home-based studios in the region.
Meet the artisans at the Event Gala evening on October 7th and during the tour to find out how they transform their creative energy into works of art for everyone.
Enjoy a special weekend on a spectacular Gulf Island!
Participating Members:
Please click on the member name to get more information.
G3
All Washed Up


9-510 North Road, Gabriola Island, BC

3
Moonshine Studio, Laura Handford


525 Berry Point Road, Gabriola Island, BC

4
Gallery401 , Jeff Molloy


401 Berry Point Road, Gabriola Island, BC

13
Workingsilver.com


1020 Coats Drive, Gabriola Island, BC

14
tammy hudgeon glassworks, tammy hudgeon


1790 Seymour Road, Gabriola Island, BC

16
Eyes Wide Open Photography, Nicholas Halpin


2021 Blueback Circle, Gabriola Island, BC

17
Sheila Norgate


2531 Tyee Drive, Gabriola Island, BC

18
Beverley's Woodworking, Beverley Purser


2511 Tyee Drive, Gabriola Island, BC

31
Vikki's art studio


1460 Wild Cherry Terrace, Gabriola Island, BC

37
Whalesong Studio, Maureen O'Connor


765 Lockinvar Lane, Gabriola Island, BC

38
Our House Art Studio, melinda wilde


737 Ross Way, Gabriola Island, BC
Click on Gabriola Island's 15th Annual Thanksgiving Studio Tour - Booklet to print this tour as a PDF file. (Adobe Acrobat reader is required to print this file)


Contact Info: