Saturday Jun 02, 2012 - Sunday Jun 03, 2012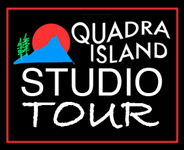 Quadra Island Artists are once again welcoming visitors to their 10th Annual Studio Tour on June 2nd and 3rd. This year over 30 artists will present their art at 25 studios as well as the Quadra Community Centre where a group show "sampler' will also be on display.
Quadra Island artists have many wonderful creations in their backyards, and the Studio Tour lets you experience them. There are a lot of interesting things to explore inside Quadra's driveways. Paintings, pottery, perfectly cast and hand painted fish, art glass, hand built guitars, fabric art, sculpture, jewelry; they are all produced on the island. The tour is a wonderful way to get into artist's studios and backyards and talk to them about their process. Along with wonderful gardens and vistas, it is a great way to vicariously experience island life.
The Studio Tour has something for everyone to enjoy. William VanOrden at Bilz Rockfish Studio has perfected the process of molding and painting perfect replicas of rare and not so rare fish, many fantastical in form. His love of the process and his commitment to documenting different species, some endangered, is inspiring to any creative soul. His studio was a huge hit last year.
This year is sure to be just as interesting. Sam Whittingham of Naked Bikes is the fastest man in the world; on a bike that is, and he builds amazing bikes too. These quotes say it all:
"It's so badass. It's amazing! "
Lance Armstrong - talking about his new Naked bicycle.
"WHAT!? Lance bought the bike already? "
Robin Williams- talking about Lance's new Naked bicycle.
James Pottery is an island institution and always a favourite destination. Gordon and Martha James have lived and produced their wares on the Island since the mid 70's. Their work is a unique combination of the colorful, sublime and humorous. Their studio, which is as interesting as their work, is located on an old island homestead that overlooks the Strait of Georgia and is always a treat to visit and they are only two of many fine potters on the island.
Perrin Sparks, a very technically skilled painter and illustrator, gives lessons & workshops in her studio. Aside from painting, she also produces beautiful drawings, pastels and etchings of small birds and animals. Chris Rose, a carver of soapstone bronze and alabaster, runs a young artist mentoring program. Cherie Hemmingsen's "I Blew It" glass blowing studio teaches interested visitors and is always a favourite. All these will be on the tour along with several aspiring and established painters.
Tickets for the Studio Tour are $5 (kids under 13 free) and are available at Campbell River Art Gallery, Comox Valley Art Gallery, Hummingbird Office Supply in Quathiaski Cove and Island resorts and galleries. For more information visit: www.quadraislandarts.com
Participating Members:
Please click on the member name to get more information.
CC
Quadra Community Centre (Quadra Recreation Society), Sonya Thompson


Box 10, Quathiaski Cove

1
Long John Silvers Glass Studio, John Hansen


396 Sutil Rd., Quathiaski Cove

3
James Pottery, Martha and Gordon James


120 Joyce Rd., Quadra Island

5
Windswept Studio, Gail Rankin


P.O.Box 216, 761 Noble Road, Quadra Island

6
Earthlight Pottery, Hanna Lewandowski


689 Plaza Road, Quathiaski Cove

8
Hands On Design, Leslie MacKenzie


PO Box 305 Heriot Bay, Quadra Island

9
Firesign Art and Design , Nanci Cook


PO Box 265, Quathiaski Cove

11
John Schevers


737 West Road, Quathiaski Cove

13
Naked Bicycles & Design, Sam Whittingham


P.O. Box 135, Quadra Island

17
Bilz Rock Fish, William Van Orden


Box 245, Heriot Bay

18
Eagle Eye Studio, Wilma Richardson


810 Hope Spring Rd., Box 267, Quadra Island

20
Rich Guitars, Rich Pielou


1861 Hyacinthe Bay Rd, Heriot Bay

21
i blew it, Cherie Hemmingsen


2107 Redonda Way, Heriot Bay

22
LAKE HAVEN - Atelier & Art Retreat, Perrin Sparks


PO Box 76, Heriot Bay
Click on Quadra Island Studio Tour - Booklet to print this tour as a PDF file. (Adobe Acrobat reader is required to print this file)


Contact Info: