Welcome to our Drawing guide for information about Drawing in Brentwood Bay.

Discover in paint and rhyme - B.C. seascapes, landscapes, churches and still life, abstract and figurative work.
Brentwood Bay, V8M 1A1, 928 Greig Avenue
Ph. (250) 544-1299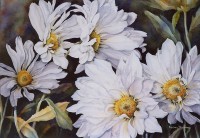 A watercolour painter of flowers and west coast scenery, Barbara Callow is an Active Member of the Federation of Canadian Artists, and her work can be seen at F.C.A. exhibitions, The Gallery in the Oak Bay Village, and The Gallery in Brentwood Bay.