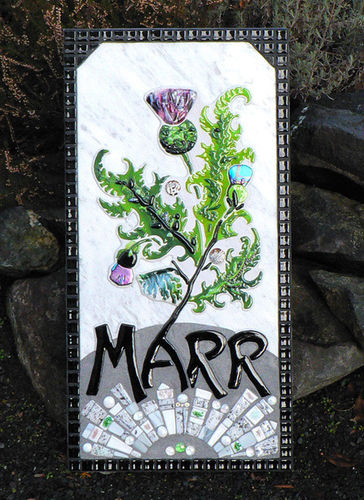 This Outdoor Mosaic was created for a "branch" of a family to celebrate their in-law's life in Canada and his origins - can you guess Scotland?
It is created with glass material - largely my hand-made fusions, set on a Carrera marble substrate.
Built to last, outside, for many generations to come!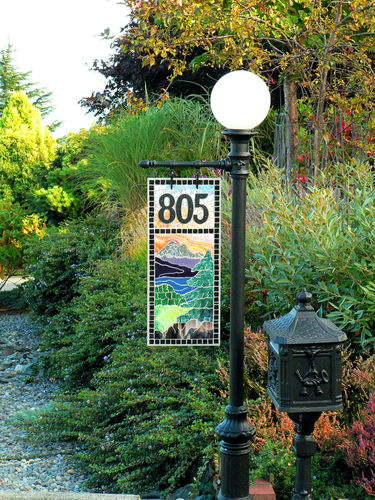 This is the front side of the "805", a hanging address panel - a landscape of the view over Victoria to Mt Baker. The reverse side is also mosaicked - have a look on my website!
Stained glass, Glass Fusions, on a mosaic outdoor substrate.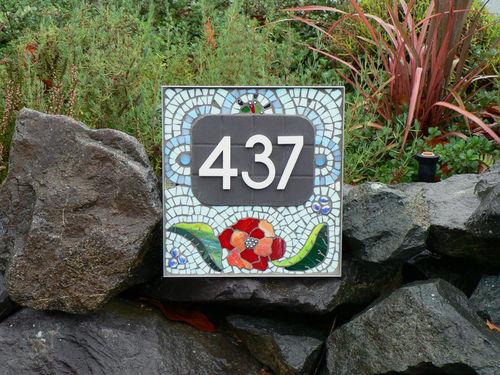 Another double sided Address Marker for "437" - the reverse side is a landscape.
Glass, Glass fusions, and Cinca Tile on a mosaic weatherproof substrate....
A cheerful little outdoor mosaic of Coneflowers Against a Cedar Fence. - Fully weatherproof to add colour to the garden year-round.
This is stained glass and fusions, sealed marble, on a man-made, recycled material, waterproof, substrate.
You should see it sparkle in sunshine!
Wowser was one of those mosaic creations I had to get out of my system and just make! He is pretty glitzy - I imagine he will end up in a shady, dark area of someone's garden where he can shine on and brighten up the world!
Wowser is glass fusions, glass baubles, smalti, sealed mirror, recycled mirror, mille-fiore, all on a weather-proof mosaic backing, re-inforced for hanging safely, in wind, rain, snow and sun!(Available for Purchase)