Welcome to our Art cards guide for information about Art cards in Penticton.

web designer & fine artist
Penticton, V2A 5K4, 202-304 Martin Street
Ph. (250) 490-8339
Landscapes, Woodcuts, Watercolours, Hand printed greeting cards and Acyrlics
Penticton, V2A3C7, 1027 MacCleave Ave
Ph. (250)492-0505
Okanagan Artist, Libby Parsons
Naramata, V0H 1N0, 2820 Arawana Road
Ph. 778-514-0011
Okanagan Artist, Penticton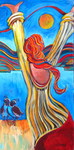 Okanagan Artist Laila Campbell who paints in acrylics Exhibits at Lloyd Gallery 18 Front St. Penticton.