British Columbia Travel Guide

The unofficial BC Travel & Tourism Guide

Situated between the historic mountain setting of the Selkirk and Monashee Mountain Ranges, Revelstoke is devoted to a high quality of living, providing world class adventures, stellar accommodations, and endless activities year round.


The truly inspiring aurora borealis, thundering river rapids, thrilling heli-skiing, annual tournaments, and naturally soothing hot springs motivate tens of thousands of visitors to return to Revelstoke each year. Remote experiences that give guests a taste of the untouched wilderness can be simple to access by automobile, plane or boat. Perhaps a day of lake fishing or a relaxing game of golf is preferred, but it all happens between the curtain of rejuvenating mountains and forests scenery.

Rarely is such rugged beauty this accessible and practically unscathed by manís presence - a true testament to the cityís sustainable missions.

Population: 7,600+

Highlights:
Mount Revelstoke National Park and Glacier National Park
Railway Museum
Revelstoke Dam
Blanket Creek Provincial Park and the 40 foot high Sutherland Falls
Mountain Arts Festival in September
Grizzly Plaza
Powder Springs Ski Area on Mount MacKenzie
Snowmobile season runs from late November into June

History:
The First Nations Interior Salish were semi-nomadic tribes within the region known as Revelstoke today. The often cool winters required preparation for food and supplies for winter storage. Hence, they would journey to up the rivers for fish and collect berries throughout the year. The tribes had inhabited these regions for over 5,000 years prior to the arrival of European explorers.

The gold rush of the 1860ís in British Columbia had created a stir in Europe as prospectors from all over were drawn to the new world. By 1883, the Trans Canada Railway reached the outskirts of the province / Crown Colony and the next river to cross was the Columbia. The area close to the river was prepared as a development site and name in honour of Lord Revelstoke, who was head of the London bank, which had rescued the railway from bankruptcy. The small town became a supply and transportation center for the mining industry. Later, with the growth of the railway, Revelstoke took on the timber industry to supply more railway ties.

As travelers have ventured through the area over the last hundred years, the waters for fishing, great landscape scenery and the winter snowfall have allowed Revelstoke to harvest a new industry out of tourism.

Climate:
Summer average 20 degrees Celsius
Winter average -2 degrees Celsius
Combination of Temperate Climate and Alpine Climates, receiving approximately 320 centimeters of snow during the winter.
Revelstoke Accommodations
Experience Snowcat Skiing At Its Best.

Revelstoke Things to Do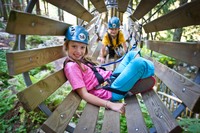 Experience BC adventure in the treetops of British Columbia Canada's Monashee Mountains!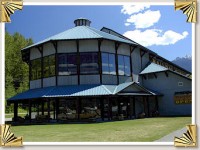 All Aboard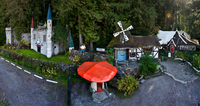 The Enchanted Forest, a must see BC attraction. See over 350 Jolly Folk figurines, BC's tallest treehouse and paddle with rowboats!

f 0