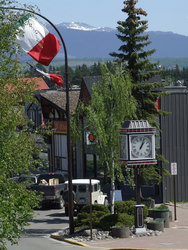 Bulkley Valley, the cradle bed home to Smithers, is in northwestern British Columbia between Prince Rupert and Prince George. The great wilderness throughout this area was also a big time draw for film producers, it was the site for the filming of Walt Disney's picture "8 Below". The Hudson Bay Mountain to the west and the Babine Mountain range to the east are like the grandfather protectors of the valley whose snowcapped peaks reach to the sky. They are also the playground for many favorite recreational activities such as; hiking, climbing, wilderness camping, skiing and snowmobiling.


The city centre is charming and warm with the relaxed lifestyle offered in Smithers. The roadways were reconstructed with redbrick and the rooftops depict earlier days, it had all be designed as such in the late 1970's following a fire.

Smithers will provide visitors with all the necessary adventure equipment to make a first attempt that leaves them with dozens of new memories!

Population: 6,000

Highlights:
Lake Kathlyn
Bulkley Valley Museum
Smithers Art Gallery
Year Round Performances
Rivers & Fly Fishing
Traditional Canoeing

History:
The aboriginal people who first inhabited this area are know as the Wet'suwet'en, ("People of the lower hills"). Their are a Carrier people of the Athapaskan language group. This expansive territory is the original home to six distinct Wet'suwet'en communities; the Hagwilget, Moricetown, Broman Lake, Burns Lake, Skin Tyee and Nee Tahi Buhn. These clans were made up of a multiple number of family members and long houses. They have resided in and around this area for more than 5,000 years.

In the early 1900's, the first white settler was Gabriel Lacroix arrived to farm on the east side of the Bulkley River. Once the area began to see more adventurers of the fur trade, prospectors of the gold rush and the effects of the arrival of the railway in the province, Smithers began to truly take shape. Smithers was officially named in 1921 after Sir Alfred Smithers, who was the railway's board of directors' chairman.

Climate:
Summer average 17 degrees Celsius
Winter average -8 degrees Celsius


For more information please visit www.tourismsmithers.com/chamber

Snow report for Hudson Bay Mountain
Closed (end of season) / Past 48 Hours: 0in. / Slopes, top station: N/A / Base Depth: 0in.
Last update: Tue, 14 May 2013 20:40, provided by www.onthesnow.com
Map of Smithers

= Accommodation,

= Free wireless HOTSPOT,

= Artist/Attraction