Discovery Island Marine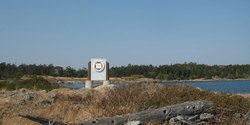 Discovery Island Marine Provincial Park is located on uninhabited and undeveloped Discovery Island about two nautical miles (4 km) east of Victoria off the southern tip of Vancouver Island. 61-hectare Discovery Island Provincial Marine Park was founded in 1972.
Several of the nearby islands, including Chatham, constitute parts of the Oak Bay Islands Ecological Reserve. These habitats are extremely sensitive to human disturbance and vulnerable to the introduction of non-native animal or plant species. Special permission is required to enter these areas.
Access via the sea
Discovery Island, which is about a 1.6 km long and 800 metres wide, can only be accessed by sea.
Recreation
Kayaking
The excellent kayaking opportunities make Discovery Island Marine Provincial Park a popular destination for visitors, local residents, school groups and kayak instruction groups, who have experienced guides on hand. From Victoria, paddlers can launch their kayaks at Cattle Point, just north of Oak Bay Marina at the sign marked Cattle Point Scenic Loop, the Oak Bay ramp off Beach Drive, and Smuggler's Cove (Maynard Bay) on Ten Mile Point.
Kayakers paddling between Oak Bay Marina and Discovery Island will be delighted by the wildlife on and around the guano-stained Chain Islets archipelago, a sensitive seabird nesting area and ecological reserve. Great Chain Islet is home to harbour seals, glaucous-winged gulls, pelagic cormorants, pigeon guillemots and black oystercatchers. Sightings of sea lions, otters and Bald eagles are common around the park. Visitors are not allowed to land on the Chain Islets.
Paddlers wishing to circumnavigate Discovery and Chatham Islands (10 km) should allow a full day for exploring.
Hiking
A hiking trail runs from the lighthouse on Sea Bird Point to Commodore point, across to the western shore of the park, and up Pandora Hill (38 m high) for sweeping views of the Olympic Mountains and surrounding area. In the spring, wildflowers blooms in the woodlands and meadows. There are gravel beaches and a few trails along the shores and through fir and arbutus woodlands.
Camping
Southwest of Pandora Hill, campers can set up a tent in an open field bordered by wind-sculpted Garry oak and arbutus trees. Basic facilities include a pit toilet, information shelter, and picnic tables. The island has no potable water.
Except during winter rains, the islands are extremely dry and open fires, on the upland and foreshore, are not permitted. A self-registered camping fee (May 1 - September 30) is payable on an honour system into a self-registration vault at the information shelter. Discovery Island Marine Provincial Park is open year round. During the off-season, there is no fee and no services.
History
In 1846, Discovery Island was named by surveyors in honour of the British Explorer Captain George Vancouver, who navigated the coastline of British Columbia between 1792 and 1794 in his ship HMS Discovery. The adjacent Chatham Island was named after his escort ship, Chatham.
The islands were used by First Nations people, resident lighthouse keepers and the island's donor, Capt. E.G. Beaumont, who lived on Discovery Island with his wife for nearly half a century. Evidence of their once beautiful home and gardens overlooking Rudlin Bay can still be seen.
The lighthouse at Sea Bird Point, the eastern end of Discovery Island, marks the junction of Haro and Juan De Fuca Straits, which form the border between Canada and the United States. The lighthouse was built in 1886 and manned for 110 years before being fully automated in 1996. Sea Bird Point was named after an American paddle steamer, which caught fire and was run aground in 1858 to save the lives of the crew.
The northern portion of Discovery Island, adjacent Chatham Island and some of the smaller islands nearby, are First Nations Reserve lands. Please respect these areas.
Safety
Boaters should be aware that there is no safe anchorage and no moorage in the park - the closest safe harbour is in Oak Bay. Mariners should exercise extreme caution, as the main access to the park is via the rock and reef-strewn Rudlin Bay, which is exposed to the elements from the Strait of Juan de Fuca and Haro Strait. These waters can be treacherous, as strong currents and frequent winds create dangerous conditions, including rip tides. Crossings are best made at slack tide in calm weather.
Outdoor enthusiasts embarking on day-excursions should be well versed in the skills of navigation, self-rescue, first aid and wilderness camping before setting off.
Marine forecasts: www.bigwavedave.ca/forecasts.php?page=2