Total listings: 4 Showing: 1-4
Page:

[1]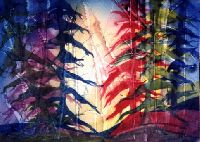 Nadia Shworan's preferred medium is watercolours and her subjects include flowers, landscapes and still life. Besides being an artist Nadia is a fiction writer and speaker.


Oil and encaustic paintings, portraits, animals, landscapes, deep space images. Also mixed-media, watercolors, charcoal drawings.


Lovely gallery with a stunning view of the Englishman River Valley. Watercolors and encaustics. Additional gift items, including cards and quilting.


The Gallery contains multiple oil and water colour paintings on various subjects. The Gallery also displays paintings by other artists.