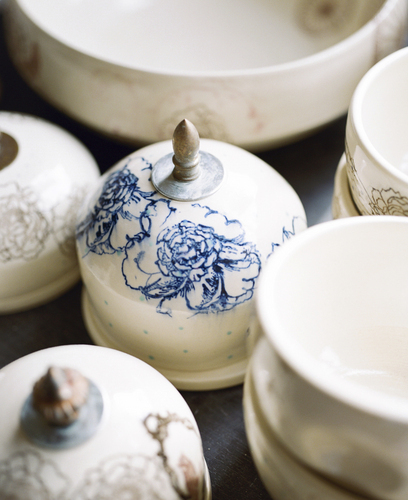 Paige Coull originally grew up and spent most of her childhood in the Ottawa valley of Ontario. At a young age Paige was clearly intrigued by the arts, and eventually she migrated to Montreal in early 2001 to pursue an education in art. Soon after doing so found herself creating work in many different mediums, but found her passion in ceramics where she could incorporate all the styles she enjoyed working in.

Persuaded by her ceramics instructor, Paige headed west for Calgary, Alberta to pursue a bachelor of fine arts degree at the Alberta College of Art and Design in 2004.
Although majoring in ceramic arts, she also had full access to the many different studios available at the college, resulting in the incorporation of textiles, alternative photography, glass blowing, print media and jewelry into her pottery.

Paige finds a voice in ceramics to speak about her history, present, her environment and people that surround her.

Every piece of pottery she creates is treated as an individual unique piece of art; no piece is replicated in either dimensions or surface design to ensure that the owner has a one of a kind piece. In the same way she creates her work, Paige understands that every person is unique in shape and personality, much like each piece of her pottery fits into the hands and lives of their owners in a special way.

Paige's anthropomorphic approach to ceramics, gives each piece she produces a certain human characteristic, or familiar feeling most people can relate to. Whether it be a smooth glass infusion in a thumb groove, the familiar texture of your grandmothers crochet, or a subtle curvature that seems to fit their fingers so perfectly, she encourages you to develop a relationship with her work.

Paige now resides in Victoria BC, on beautiful Vancouver Island with her husband Campbell, and Andy, their cat.