Saturday Jun 15, 2013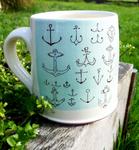 More than thirty potters will display their wares on June 15 at Clay Connects, the annual show and sale of the South Vancouver Island Potters Guild.
The event follows on the highly successful 2011 and 2012 sales at a new location next to the Moss Street market. Guild members will set up their tables and tents in the Garry Oak Room and outside on the lawn at the Fairfield Gonzales Community Place, at 1335 Thurlow Road in Fairfield, welcoming visitors from 10 a.m. to 3.00 p.m.
The guild, composed of some 70 members based from Victoria through Sooke and Sidney to the Cowichan Valley, has held an annual sale since its beginnings in 1999.
Participating potters range from long-time, full-time artisans who produce a wide range of functional ware to sculptors and hand builders who specialize in more ornamental and often whimsical work. Guild exhibitors stress that variety is the strongest theme to their work. "Come and find what you never realized you couldn't do without," could be their motto, "from the completely necessary to the utterly ornamental."
Pots on display will run the gamut from small to large, coffee mugs to garden sculpture, in porcelain, stoneware and earthenware, glazed in all colours of the rainbow. Prices range from a few dollars to more than $100.
The aim of the guild, founded in 1999, is to support, motivate and educate artists working in clay. A member of the B.C. Potters' Guild, SVIPG meets the second Monday of every month at the St. Michael's Church Hall, 4733 West Saanich Road. The organization also offers strong support to Souper Bowls of Hope, with potters donating hundreds of hand-crafted bowls each year to raise funds for the Youth Empowerment Society.
Participating Members:
Please click on the member name to get more information.
1
Earthsong Pottery, Rachel Coward


1335 Thurlow Road, Victoria

1
Dirty Girl Clayworks, Faro Sullivan


1335 Thurlow Road, Victoria

1
Aspen House Productions Ltd., JOY FINLAY


1335 Thurlow Road, Victoria

1
BRANCHING OUT, Priska Stabel, Priska Stabel


1335 Thurlow Road, Victoria

1
Winter Creek Pottery, Muriel Sibley


1335 Thurlow Road, Victoria

1
elaine white pottery, elaine white


1335 Thurlow Road, Victoria

1
Ester Galac


1335 Thurlow Road, Victoria

1
Joan Kagan


1335 Thurlow Road, Victoria

1
Lomalinda Clayworks, Pamela Truscott-White


1335 Thurlow Road, Victoria

1
eartharts, Louise Parsons


1335 Thurlow Road, Victoria

1
Belle Leon


1335 Thurlow Road, Victoria

1
Black Bird Studios, Paige Coull


1335 Thurlow Road, Victoria

1
Libby Wray


1335 Thurlow Road, Victoria

1
Rustica Pottery, Rosemary Neering


1335 Thurlow Road, Victoria
Click on Clay Connects - Booklet to print this tour as a PDF file. (Adobe Acrobat reader is required to print this file)


Contact Info: