Saturday May 13, 2017 - Sunday May 14, 2017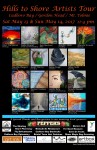 The communities of Cadboro Bay, Gordon Head and Mt. Tolmie proudly invites the public to participate Sat May 13 and Sun May 14, 2017 from 11 am to 4 PM.
The artists of this community host these free and exciting tours and invite the public to visit their home studios to explore the diverse works of these Vancouver Island artists. Our talented artists work in diverse media from painting and printmaking, to silversmithing, fabrics and photography. This event provides a wonderful opportunity to visit artists in their working environment and to discuss ideas, techniques, and styles. It is also a fantastic way to explore the community and show your friends and visitors what an incredibly beautiful environment we live in.
Maps, brochures and further information will be available in April 2017 available at www.gobc.ca and from the many local merchants in Cadboro Bay, Gordon Head and Mt. Tolmie
We look forward to seeing you there!
Participating Members:
Please click on the member name to get more information.
1
Dorothy Haegert


2885 Phyllis Street, Victoria, BC

2
Allan Castle Artworks, Allan Castle


2938 Tudor Ave, Saanich, BC

3
Colette Baty


2938 Tudor Ave, Saanich, BC

5
Uniacke Designs, Jennifer Miller


2875 Tudor Avenue, Victoria, BC

6
Sylvia Wearne


3840 Cadboro Bay Road

8
Marcela Strasdas


3878A Finnerty Road

9
Jill Fitz Hirschbold Photography, Jill Fitz Hirschbold


4030 Locarno Lane

10
Judi MacLeod


3965 Lexington Ave, Victoria, BC

11
Audrey Hayes


3965 Lexington Ave, Victoria, BC

12
DeeZee Creations


4405 Hannah Court, Victoria, BC

13
Sonia Lesage Ceramics, Sonia Lesage


4409 Robinwood Drive, Victoria, BC

14
Peter N Van Giesen, Peter Van Giesen


1519 Cedarglen Rd, Victoria, BC

15
little bird studio/ Melanie Spencer


4020 Loyola Street, Victoria, BC

16
Natalie Shumka


1605 Sheridan Ave, Victoria, BC
Click on Hills to Shore Artists Tour Cadboro Bay / Gordon Head / Mt. Tolmie - Booklet to print this tour as a PDF file. (Adobe Acrobat reader is required to print this file)

Other Participants:
Judith Hirczy - Jewellery
Contact Info: