British Columbia Travel Guide
The unofficial BC Travel & Tourism Guide
Mount Seymour - Provincial Park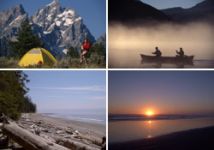 A semi-wilderness area only 30 minutes from downtown Vancouver, Mount Seymour Provincial Park has been enjoyed by generations of Lower Mainland residents. Trails of various lengths and difficulty based on summer hiking conditions are available. The park offers viewpoints overlooking the city of Vancouver and Indian Arm Provincial Park. There are opportunities for bird and wildlife viewing and four areas for day-use picnicking are available.
There are several lakes in the park. Elsay Lake is the largest. Its waters and those of De Pencier, Gopher and Goldie drain eastward to Indian Arm. Some of the smaller lakes and ponds feed their waters west to the Seymour River.

Contact Info:
Just click on the following links for more information about nearby communities such as North Vancouver (accommodations in North Vancouver), Vancouver (accommodations in Vancouver).