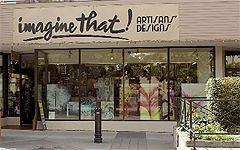 In 1994 a group of 12 artists in the Cowichan Valley on Vancouver Island met to discuss the need for a permanent showcase for selling their artwork beyond the usual venues of craft fairs and exhibitions. Though the initial group changed, a core group of 9 opened their first tiny storefront in downtown Duncan in August of the same year. They called themselves IMAGINE THAT! ARTISANS' DESIGNS. They are a Registered Co-operative.

August 2016 marked the beginning of the 23rd year in business for this very successful artist-run store. There are currently about 90 artisans on display. All work is juried and is of very high quality, with price ranges for even the smallest budget. The Members are justifiably proud of their long record supporting local Cowichan artists and other artists from Vancouver Island.

Mid way between VICTORIA and NANAIMO, their great location is at the heart of the Cowichan Valley in historic downtown Duncan. IMAGINE THAT! is a pleasant place to turn off the Island Highway and have an artistic "refuelling" stop. Look for the red brick CITY HALL. We're across the square.

Imagine that! is proudly Canadian, with most works made in the Cowichan Valley or in the surrounding towns of Chemainus, Ladysmith, Nanaimo, and Victoria.

Imagine That! Artisans' Designs features the work of Sandra Greenaway and Katie Daniel, who are the principal Co-op Members, plus approximately 90 other professional artisans and artists.

Each day, you will meet one of our working artists helping to operate the shop and make it the success it is. Come in and say hello.

Every month the displays change in both storefront windows. These windows are available for artists to rent and are booked well in advance.

Store Hours

Tuesday through Saturday: 10:00 am to 4:00 pm
Closed Sundays and Mondays

Featured from March 3 through 31, 2017

Paintings by Penny Maday Ciochetti

Birdhouses by Bonnie Hayward
Penny Maday Ciochetti is a painter in acrylics, water colour and mixed media. Her style marries representational images with strong abstract and symbolic forms. Colour, the play of paint, line, the magic between dark and light, are a focus. Themes such as sacredness, love, loss, hope, and transformation inspire Penny. She uses themes from nature, ancient cultures and her own inner world to tell a story. Her large scale acrylic paintings from " The Nest Series" will be featured as well as her Art Lights and water colours.
Bonnie Hayward's passion for working with wood started when she was just a child. Her father provided her with her first tools and some space in which to work, and a lifelong love affair with making things began.

When she retired, her need to build projects from wood never wavered. From her workshop in Lake Cowichan, she creates a variety of bird houses, feeding stations, bee motels, and bat houses.

For her bird houses, she takes careful account of the type of bird to attract ensuring that the entrance holes are of the right dimension, for example. She crafts her projects not just from wood, but embellishes them with whimsical bits of decoration that appeal to the human owners, as well as the birds.