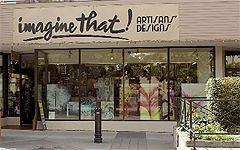 In 1994 a group of 12 artists in the Cowichan Valley on Vancouver Island met to discuss the need for a permanent showcase for selling their artwork beyond the usual venues of craft fairs and exhibitions. Though the initial group changed, a core group of 9 opened their first tiny storefront in downtown Duncan in August of that year. They called themselves IMAGINE THAT! ARTISANS' DESIGNS. They are a Registered Co-operative.

August 2016 marked the beginning of the 23rd year in business for this very successful artist-run store. All work is juried and is of very high quality, with price ranges for even the smallest budget. The Members are justifiably proud of their long record supporting local Cowichan artists and other artists from Vancouver Island.

Mid way between VICTORIA and NANAIMO, their great location is at the heart of the Cowichan Valley in historic downtown Duncan. IMAGINE THAT! is a pleasant place to turn off the TransCanada and have an artistic "refuelling" stop. Look for the red brick CITY HALL. We're across the square.

Imagine that! is proudly Canadian, with most works made in the Cowichan Valley or in the surrounding towns of Chemainus, Ladysmith, Nanaimo, and Victoria.

Imagine That! Artisans' Designs features the work of Sandra Greenaway and Katie Daniel, who are the principal Co-op Members, plus 80-some other professional artisans and artists.

Each day, you will meet one of our working artists helping to operate the shop and make it the success it is. Come in and say hello.

Every month the displays change in both store front windows. These windows are available for artists to rent and are booked well in advance.

Store Hours

Monday through Friday: 10:00 am to 5:00 pm
Saturdays 10:00 am to 4:00 p.m.
Closed Sundays

Featured from July 3 through 28, 2017

Summer 2017 Collection by Sandra Greenaway

Rag Rugs and More by Katie Daniel
Summer 2017 Collection by Sandra Greenaway

Sandra Greenaway's creations are a blend of contemporary and vintage fabrics, piecing techniques, an artful eye and couture sewing.

She is inspired by traditional Japanese kimono design to create garments with elements of that tradition - simple lines, quilting, piecing of fabrics, and creative use of colour and texture.

It is the fabric - its beautiful colours, exotic motifs and quality of weave - that attracts us. Clothing as an art form is more relevant today than ever. With the availability of mass-produced products in the world, we long for things unique and personal.


Rag Rugs and More by Katie Daniel

Taught to crochet by a babysitter when she was in elementary school, Katie Daniel took inspiration from the rag rugs at her Grandmother's farm and has been crocheting them for over 30 years. Durable and colourful, her rugs enhance many design themes and are particularly apt for those who like a vintage look. As a child she learned to sew at her Mother's knee, and makes aprons with distinction that will cheer every home chef.