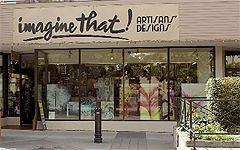 In 1994 a group of 12 artists in the Cowichan Valley on Vancouver Island met to discuss the need for a permanent showcase for selling their artwork beyond the usual venues of craft fairs and exhibitions. Though the initial group changed, a core group of 9 opened their first tiny storefront in downtown Duncan in August of that year. They called themselves IMAGINE THAT! ARTISANS' DESIGNS. They are a Registered Co-operative.

August 2017 marks the beginning of the 24th year in business for this very successful artist-run store. All work is juried and is of very high quality, with price ranges for even the smallest budget. The Members are justifiably proud of their long record supporting local Cowichan artists and other artists from Vancouver Island.

Mid way between VICTORIA and NANAIMO, their great location is at the heart of the Cowichan Valley in historic downtown Duncan. IMAGINE THAT! is a pleasant place to turn off the TransCanada and have an artistic "refuelling" stop. Look for the red brick CITY HALL. We're across the square.

Imagine that! is proudly Canadian, with most works made in the Cowichan Valley or in the surrounding towns of Chemainus, Ladysmith, Nanaimo, and Victoria.

Imagine That! Artisans' Designs features the work of Sandra Greenaway and Katie Daniel, who are the principal Co-op Members, plus 80-some other professional artisans and artists.

Each day, you will meet one of our working artists helping to operate the shop and make it the success it is. Come in and say hello.

Every month the displays change in both store front windows. These windows are available for artists to rent and are booked well in advance.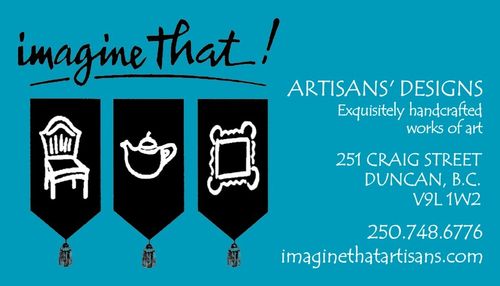 Store Hours for September and October

Tuesday through Friday: 10:00 am to 5:00 pm
Saturdays 10:00 am to 4:00 p.m.
Closed Sunday and Monday

Featured from August 28 through September 29, 2017

Originals and Prints by Michael Dean

Featured through September 29, 2017

Paintings on Slate by Patricia Mansell
Born in Lancashire, England, Michael started painting in the late 1960s. He emigrated to Canada in 1972 and continued his passion, inspired by local beauty and the marine life around Vancouver Island.

His main interests have been working coastal vessels, historical coastal scenes and, most recently, the forest and beach scenes of Vancouver Island.

Michael enjoys hiking and camping around the local area and exhibits his work around the Cowichan Valley area.


Paintings on Slate by Patricia Mansell

Born in Kent, England, Patricia moved to Alberta, Canada in 1981. She now lives in Nanaimo on Vancouver Island.

Patricia took up painting in 1994 and was drawn to painting wildlife. Learning and developing her style has taken her across North America to find new subjects to paint. She brings depth and detail to her acrylic paintings, and enjoys the process of mixing from a very limited palette of four main colours.

She has a special interest in painting endangered wildlife. Often something unique about the animal will inspire a painting. She develops her paintings from research and photographing animals in the wild and enjoys bringing out each animal's character.

Patricia was Ducks Unlimited Sponsor Print Artist for Alberta in 2011 and is a Signature Member of the International Group, Artists for Conservation.