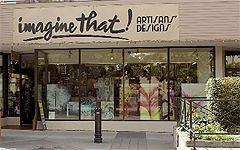 In 1994 a group of 12 artists in the Cowichan Valley on Vancouver Island met to discuss the need for a permanent showcase for selling their artwork beyond the usual venues of craft fairs and exhibitions. Though the initial group changed, a core group of 9 opened their first tiny storefront in downtown Duncan in August of the same year. They called themselves IMAGINE THAT! ARTISANS' DESIGNS. They are a Registered Co-operative.

August 2016 marked the beginning of the 23rd year in business for this very successful artist-run store. There are currently about 90 artisans on display. All work is juried and is of very high quality, with price ranges for even the smallest budget. The Members are justifiably proud of their long record supporting local Cowichan artists and other artists from Vancouver Island.

Mid way between VICTORIA and NANAIMO, their great location is at the heart of the Cowichan Valley in historic downtown Duncan. IMAGINE THAT! is a pleasant place to turn off the Island Highway and have an artistic "refuelling" stop. Look for the red brick CITY HALL. We're across the square.

Imagine that! is proudly Canadian, with most works made in the Cowichan Valley or in the surrounding towns of Chemainus, Ladysmith, Nanaimo, and Victoria.

Imagine That! Artisans' Designs features the work of Sandra Greenaway and Katie Daniel, who are the principal Co-op Members, plus approximately 90 other professional artisans and artists.

Each day, you will meet one of our working artists helping to operate the shop and make it the success it is. Come in and say hello.

Every month the displays change in both storefront windows. These windows are available for artists to rent and are booked well in advance.

Store Hours

Monday through Saturday: 10:00 am to 4:00 pm
Closed Sundays

Featured from February 4 through March 3, 2017

Mirrors: Todd McAneeley
For professional woodworker Todd McAneeley mirrors are a perfect opportunity for artistic expression. In fact, each of his mirrors is an original work of art reflecting the rugged, natural beauty of the west coast.

A furniture maker with more than twenty years of experience in the Cowichan Valley, Todd works with wood offcuts, mostly big leaf maple, to craft rich, warm frames, smooth to the touch. Some of his creations are simple designs highlighting the natural gain of the wood, while others are more sculpted and abstract. Each frame is a work of art, the result of hours of planing, sanding, and sculpting.

Todd began his wood working career in 1997 after receiving his Benchwood-Joinery certification at Malaspina College (now Vancouver Island University). Over the course of his woodworking career, he has owned and operated a cabinet and furniture making business in the Cowichan Valley. Since 2011, he has worked for Live Edge Design, a nationally-renowned local company that creates one-of-a-kind furniture from salvaged trees.

In addition to mirrors, Todd also creates artistically carved doors that reflect the grandeur of life on the West Coast. Todd will have one of his doors on display at the Imagine That display. For those wanting something a little special, he will take custom orders.