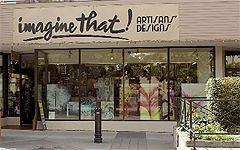 In 1994 a group of 12 artists in the Cowichan Valley on Vancouver Island met to discuss the need for a permanent showcase for selling their artwork beyond the usual venues of craft fairs and exhibitions. Though the initial group changed, a core group of 9 opened their first tiny storefront in downtown Duncan in August of that year. They called themselves IMAGINE THAT! ARTISANS' DESIGNS. They are a Registered Co-operative.

August 2016 marked the beginning of the 23rd year in business for this very successful artist-run store. All work is juried and is of very high quality, with price ranges for even the smallest budget. The Members are justifiably proud of their long record supporting local Cowichan artists and other artists from Vancouver Island.

Mid way between VICTORIA and NANAIMO, their great location is at the heart of the Cowichan Valley in historic downtown Duncan. IMAGINE THAT! is a pleasant place to turn off the Island Highway and have an artistic "refuelling" stop. Look for the red brick CITY HALL. We're across the square.

Imagine that! is proudly Canadian, with most works made in the Cowichan Valley or in the surrounding towns of Chemainus, Ladysmith, Nanaimo, and Victoria.

Imagine That! Artisans' Designs features the work of Sandra Greenaway and Katie Daniel, who are the principal Co-op Members, plus 80-some other professional artisans and artists.

Each day, you will meet one of our working artists helping to operate the shop and make it the success it is. Come in and say hello.

Every month the displays change in both store front windows. These windows are available for artists to rent and are booked well in advance.

Store Hours

Tuesday through Friday: 10:00 am to 5:00 pm
Saturdays 10:00 am to 4:00 p.m.
Closed Sundays and Mondays

Featured from April 28 through June 2, 2017

Wooden Boxes by Robert Andrews

Enamels by Margot Page

Painting on Silk by Lorraine Taylor
Wooden Boxes by Robert Andrews

Robert creates beautiful hand-crafted boxes from selected hardwoods found on Mayne Island. His boxes have a smooth velvety touch on the exterior, and his interiors often feature nested shelves. From the tiniest of boxes which might hold one precious piece of jewellery to larger boxes which could corral all of your electronic devices, his boxes are a treasure.
Enamels by Margot Page

Margot is still enamelling after starting the process 40 years ago, saying there's always something new to learn with the glazes and the use of copper or steel as a base.

Her focus is making items which have a useful purpose besides being lovely to look at. Margot adds her enamel plaques to note blocks, for those who like to hand-write memos. She does the same application of enamel pieces on bud vases for your pretty flowers and creates bookmarks to mark the place in your books.

She is adept at many choices of subject matter: foxes, owls, ravens, chickadees, quail, seashore creatures, pussy cats….whatever takes her fancy.


Painting on Silk by Lorraine Taylor

Lorraine Taylor's hand painted silk scarves are one of a kind. Each one is made with loving care and signed "Blessings". A life-long, and mostly self-taught crafter, Lorraine enjoys the endless possibilities of this beautiful art form using paints, dyes and techniques that allow her to play with colours that move about on the soft silk cloth to produce beautiful vibrant scarves.