Jeff Molloy is a farmer of art. He creates multidimensional, multi sensory works that bring emotion to the people who experience them, and energy to the spaces they inhabit.

Jeff's art does not depend on subject or materials alone. It is created through a wide variety of distinctive techniques, tools, and personal processes; resulting in truly unique, instantly recognizable Jeff Molloy originals.

Jeff Molloy was adopted as an infant by a hard drinking, hard smoking lower middle class couple living off the Danforth in Toronto in 1957 . As a young boy, Jeff took to art using it as an emotional and expressive outlet in an age when children were spoken to but seldom heard.

His earliest artistic influences were Vassily Kandinsky and Henry Moore, both of which he encountered at the Ontario Art Gallery. Molloy particularly loved the naturally lit Henry Moore wing and spent countless hours admiring Moores plaster maquettes. Jeff also remembers walking past a doorway catching a glimpse of his first Vassily Kandinsky painting, an experience he describes as " feeling a wind ". These early encounters set Molloy on a path from which he would never return.

In 1995 Jeff enrolled at The Victoria School of Contemporary Art, a school that would close after one year of operation. He transfered to the Victoria College of Art where he graduated in 1999. Until attending Art College Molloy had never considered himself an artist or exhibiting his artwork publicly.

Since graduating Jeff has won numerous awards, mounted many solo and group exhibitions as both an artist and a curator. Molloy, on occasion has teamed up with other artists to produce award winning collaborations while maintaining his solo practice. For nine years Jeff mentored countless upcoming artists through their first solo shows as the curator from 2000 to 2009 for the Gallery at the Mac in Victoria BC.

Jeff's work can be seen at ArtWorks, Studio/Gallery 401 on Gabriola Island, Winchester Galleries, Victoria or on line at www.molloy.ca.

Torta Cubana 1
22 x 16 inches
Mixed Media on plywood substrate


Mixed Media creations of all shapes and sizes. Affordable highly original work.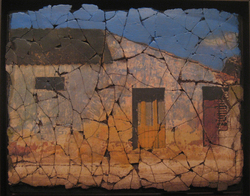 Escombros #8
10 x 8 inches
Mixed Media on Plaster framed in a dark brown shadow box.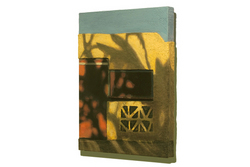 Torta Cubana 12
Mixed Media on plywood substrate
22" x 16"