Welcome to our Accommodations guide for information about Accommodations in Ucluelet.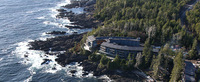 Join us at the magnificent Black Rock Oceanfront Resort in Ucluelet.
Ucluelet, V0R 3A0, 596 Marine Drive, PO Box 310
Ph. 1-877-762-5011 or 250-726-4800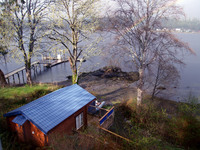 Two cozy waterfront cabins and a one-bedroom waterfront suite on half acre property on Ucluelet Harbour. Very private & romatic! Close to the Wild Pacific Trail, Long Beach & all amenities in town.
Ucluelet, V0R 3A0, 131 Garden Street, Box 541
Ph. 866-313-8108 or 250-726-8255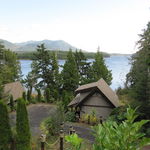 Four self contained cottages on 2 acres of waterfront property.All with private hottubs/bbq's.Bring your kayak/canoe and launch from your doorstep.Many different species of birds to watch from your window/deck.1km to the PRNPark.Great romantic getaway!
Ucluelet, V0R 3A0, PO Box 259
Ph. (250) 726 - 7060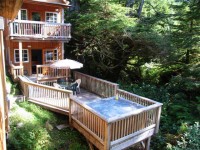 Beach Front Resort
Ucluelet, V0R 3A0, 1002 Peninsula Road
Ph. 1 866 726 2901 or 250 726 2901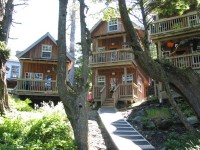 Check in & Chill out!
Uclulelet, V0R 3A0, P.O. BOX 315
Ph. 1-866-438-4373 or 1 250 726- 2101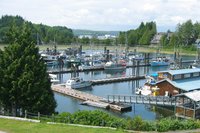 Clean & friendly motel within walking distance to restaurants, tour operators and the Wild Pacific Trail.
Ucluelet, V0R 3A0, 279 Hemlock Street
Ph. 250-726-7732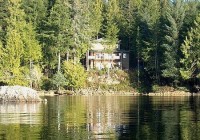 Watch the fishing boats go by.
Ucluelet, V0R 3A0, 1451 Port Albion Rd, Box 627
Ph. 250-726-7511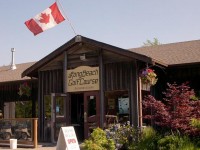 The 9 hole championship course is also known to be one of the most challenging courses on Vancouver Island.
Ucluelet, V0R 3A0, 1850 Pacific Rim Highway, box 998
Ph. 250.725.3332

1 mile of south facing pacific ocean front for your camping enjoyment close to Long Beach,Ucluelet & Tofino on the west coast of Vancouver Island B.C. Canada.
Ucluelet, V0R 1A0, SECTION 54, Clayuquot District
Ph. 250-537-2081
Clean & quiet, spacious condo-style travel apartments located on a quiet residential street in downtown Ucluelet. Walk to restaurants, groceries, trails, ocean, harbour and tours!
Ucluelet, V0R 3A0, 1906 Bay Street , Box 849 (Front Desk: 279 Hemlock St @ West Coast Motel on the Harbour), Ucluelet
Ph. 250-726-2985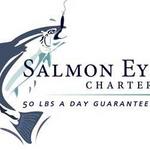 Accommodation and Fishing Guides. Vacation Rentals have 1600 square foot condos overlooking the ocean. They are modern and have heated floors in bath room and kitchen. We have a 50lbs a day guaranteed on 3 day Silver + fishing packages.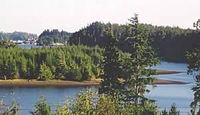 I invite you to create your myriad of Mystical Memories
Ucluelet, V0R 3A0, PO Box 787
Ph. 1 800 726 7269 or 250 726 7268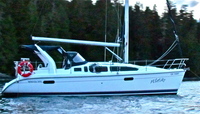 Come explore the Barkley Sound and Broken Group Islands in style and comfort aboard "Pegusus" our fully equipped Hunter 340. With sightseeing, wildlife viewing (whales, bears and birds) and hands on sailing experience.
Ucluelet, V0R 3A0, 1917 Peninsula Road
Ph. 250 266 0035