Christine is a fibre artist working with weaving, spinning, and knitting to produce unique clothing and household linens. Her inspiration comes from nature in all its colours and textures.

This sweater was inspired by her mother's love for ocean kayaking.
Sweetness of Blackberries is made from hand spun and hand dyed wool, as well as commercial yarns. The jacket is woven in the Theo Moorman technique to inlay the leaves on the fabric. Knitted leaves and vines as well as beaded blackberries complete the piece.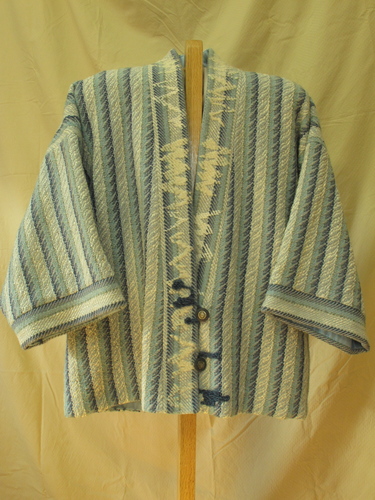 The handwoven Snowdrift jacket draws on imagery from Christine's many years in the Arctic.
Handwoven runners, place mats and tea towels are available.
Christine also weaves small, transparent banners for the garden. Woven in linen and acrylic yarn with beaded embellishments, the banners are mounted on bamboo poles.

Commissions are welcomed.