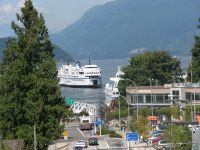 When traveling the coastal shores of the mainland through to Whistler visitors with independent sources of transportation enjoy exploring the wilderness communities and the villages of Horseshoe Bay (with BC Ferry service to Vancouver Island) Ambleside, Dundarave, and Caulfield.


Hiking and woodland trails are very popular activities, however, caution regarding the wild life living in the area should be given to adventurers who plan to go off trails. The area is dense forest and ocean views with well maintained roads, community centres, recreational parks, golf courses and club houses, beaches and shopping plazas.

The frequent rain showers (caused by the six giant mountain peaks of Mount Black, Strachan, Fromme, Hollyburn, Grouse, and Seymour Mountain) are tolerated by the residents whose laid-back lifestyles have grown to appreciate the abundant greenery and lush Douglas fur forests which surround them.

Population: 41,425

Highlights:
Fine Dining
Grouse Mountain Winter Skiing & Year Round Gondola
Mount Seymour & Cypress offer Skiing/Snowboarding (mid-winter)
Pothole Lakes
Marine Drive
Cypress Mountain & Cypress Parkway for Cyclists
Ambleside by the Sea
Dundarave Pier
Diving
Lighthouse Park

History:
Out of the various tribes of the First Nations aboriginals, which resided along the Sunshine Coast for thousands of years following the last Ice Age, the Salish kept a camp in the area known today as West Vancouver.

Captain George Vancouver, a British Explorer, arrived in the late 1700's and named Point Atkinson in 1791. During the 1800's the shoreline was developed by many visionaries who saw the potential of the port. Piers and community planning (electric, hydro and roadways)developed throughout the early 1900's. In 1914, the Pacific Great Eastern Railway reached the area and opened up transportation routes. By 1938, the six million dollar Lions Gate Bridge was complete. West Vancouver also was home to Canada's the first shopping centre, Park Royal which was complete in 1950.
Since, the area has thrived socially and in real estate, primarily in the British Properties.

Climate:
Summer average 20 degrees Celsius
Winter average 5 degrees Celsius


Snow report for Cypress Mountain
Closed (end of season) / Past 48 Hours: 0in. / Slopes, top station: N/A / Base Depth: 0in.
Last update: Wed, 15 May 2013 20:40, provided by www.onthesnow.com
Map of West Vancouver

= Accommodation,
= Free wireless HOTSPOT,

= Artist/Attraction