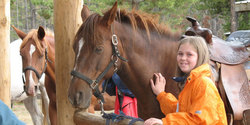 Wide open spaces and the great Wild West all stake claim to British Columbia's renowned Northern region, the Chilicton, the Cariboo and several homesteads which are scattered right across the province. Several horseback tour companies and stables who offer accommodation as well make for an original or even first time experience, riding horses. On horseback, riders tower the hillsides with grand views, take off down historic old abandoned train track routes, bring along picnics for longer rides or even join weeklong tours for the ultimate "on the range" adventure!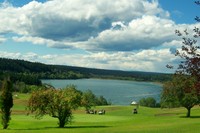 The 108 Resort Golf & Outdoor Adventures ~ 40 rooms, all with a fabulous view overlooking our Championship 18-Hole Golf Course and 2 beautiful lakes, Continental Breakfast included with your room, Heated Outdoor Pool, 2 Indoor Saunas, and much more!
108 Mile Ranch, V0K 2Z0, 4816 Telqua Drive, Box #2
Ph. 1-800-667-5233 or 250-791-5211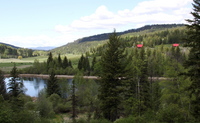 Wilderness retreat with log cabins and private lake on over 600 acres of pristine nature. Wildlife viewing, fishing, canoeing, hiking and relaxing right at your doorstep.
Lumby, V0E 2G1, 592, Bear Valley Road
Ph. 1 778 373 5684 or 250 306 6762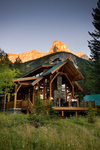 Everyday here is like no day anywhere else.
Field, V0A 1G0, P.O. Box 40
Ph. 1-866-619-6442 or (250) 343-6442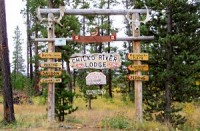 Enjoy a wilderness adventure at Chilko River Lodge & Guest Ranch!
Tatla Lake, V0L 1V0, P.O. Box 43
Ph. 1-778-786-0897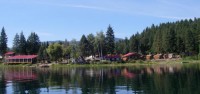 Scenic & quiet on Dutch Lake. 9 self-contained lakeside cabins, 65 RV/campsites and the Painted Turtle Restaurant in Clearwater BC.
Clearwater, V0E 1N2, 361 Ridge Drive
Ph. 1-888-884-4424 or (250) 674-3351
Historic Roadhouse & Shuswap Native Village
Cache Creek, V0K 1H0, P.O. Box 878, Junction Hwys. 97 & 99
Ph. (250) 457-9722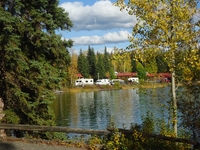 We are located in the Interlakes Area, right on Sheridan Lake in a nice and quite bay. The Fishing Highway 24 leads you to the entrance gate of Loon Bay Resort, 45km from 100 Mile House and 68km from Little Fort;
Lone Butte, V0K 1X1, 7250 Texas Rd
Ph. (250) 593-4431
Simply Spectacular, Spectacularily Simple
Radium Hot Springs, V0A 1M0, 9300 Settlers Rd.
Ph. 1 877 647-4525 or 250 342-6516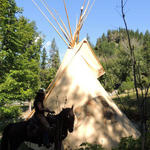 Wilderness Guest Ranch Vacations in Canada's Wild West! Join us on our trails into the North-Okanagan Wilderness in British Columbia, Canada... for the ranch holiday of a lifetime!
Lumby, BC, 82 Procter Road
Ph. 250-547-9869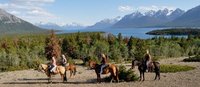 Nestled in the lush woods of the picturesque Coast Mountain range near stunning Chilko Lake.
Nemaiah Valley, V0L1X0, P.O. 79
Ph. 250-394-7052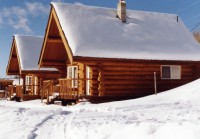 Relaxation and Renewal await you at Spring Lake Ranch
100 Mile House, V0K 2E0, Box 880
Ph. 1-877-791-5776
Experience the wilderness at Star Lake Resort
Clearwater, V0E 1N2, 1380 Clearwater 100 Mile FSR
Ph. 250-674-8494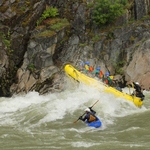 Just 45mins from Vancouver, and 30mins from Whistler, on the banks of the Cheakamus & Cheekye rivers, Sunwolf has been dedicated to running the most professional whitewater rafting trips in the Sea to Sky corridor! With riverside cabins, cafe & hot tub!
Brackendale, V0N 1H0, 70002 Squamish Valley Road, P.O Box 244
Ph. (877) 806 8046 or 604 898 1537

Come to HIKE, RIDE, BIKE & fall in love with the American Bashkir Curly Horse.
Ladysmith, V9G 1M2, 5735 Takala Road
Ph. 250.245.4864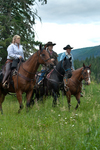 Guest Ranch & Horseback Riding Vacations
Heffley Creek, V0E 1Z1, 3968 Heffley-Louis Creek Road
Ph. 1-877-488-8881 or 250-578-8881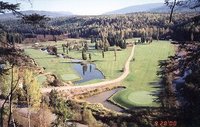 RV Camping in the wilderness. Come join our full service sites, hot showers, laundry, mineral springs pool, golfing, hiking, fishing, relaxing in the wilderness!
Clearwater, V0E 1N1, 6624 Clearwater Valley Rd
Ph. 250-674-0009