Join in on your own or play with a team of friends during your trip to British Columbia, whether sandy beaches or tough turf are your preference these areas host recreational facilities for volleyball.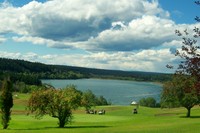 The 108 Resort Golf & Outdoor Adventures ~ 40 rooms, all with a fabulous view overlooking our Championship 18-Hole Golf Course and 2 beautiful lakes, Continental Breakfast included with your room, Heated Outdoor Pool, 2 Indoor Saunas, and much more!
108 Mile Ranch, V0K 2Z0, 4816 Telqua Drive, Box #2
Ph. 1-800-667-5233 or 250-791-5211
Simply Spectacular, Spectacularily Simple
Radium Hot Springs, V0A 1M0, 9300 Settlers Rd.
Ph. 1 877 647-4525 or 250 342-6516

A Luxury Private Bed and Breakfast/Retreat on Green Lake, 70 Mile House. Groups, family gatherings, camping, cabins, summer and winter activities. Horseback riding nearby.
70 Mile House, V0K 2K0, 101 North Bonapart Road
Ph. 1-855-844-4242 or 1-250-644-4242