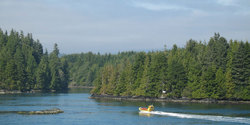 There are numerous operations offering whale watching and marine mammal tours, mostly from Vancouver Island but also in the Queen Charlotte Islands, Prince Rupert, Sunshine Coast and Vancouver. The coast of BC is the fortunate home of several species of whales and other marine mammals, including porpoise, seals, sea lions, and sea otters. Whales include Humpback and Grey, and for the first time in over 50 years, sighting have been made of the largest mammal on earth, the Blue Whale. These species move through the coastal waters as they migrate north in the summer, feeding on the plankton rich seas of the North Pacific. In the case of Grey and Humpback, the migration patterns are deeply set, and can be relied on as the Humpbacks move from Hawaii, where they calve to the North East Pacific where they fatten; and the Greys who move from Baja and then north for the same purposes. Other whales include Sperm and transient Orcas (Killer Whales). Both are opportunistic hunters and feed on other marine life. Orcas will eat seals, seal lions, walrus and other whales, but do not eat fish. Sperm whales, rarely seen, are specialists in deep diving, reaching depths of 2200 metres and will eat fish, but they specialize in Giant Squid. The most famous whales on the coast are the Resident Orca pods, one of the subspecies of Orcas. They feed on salmon and take up positions, many in the Georgia Basin and North Eastern Vancouver Island, for months at a time. They are the whales most seen by whale watching boats because of their regularity and tendency to stay in specific areas. They are also perhaps the most vulnerable because of their specialized diet relying solely on the health of salmon stocks, as subjects of human interaction, and as top predators that can concentrate pollutants in populated coastal areas.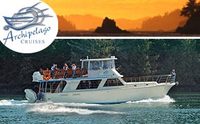 Whale watching & wildlife cruises, Broken Group Islands and sunset tours
Ucluelet, V0R3A0, Whiskey Landing Marina, 1634 Cedar Rd.
Ph. 250-726 8289

We offer waterfront accommodations on the boardwalk.
Bamfield, V0R 1B0, BOX 23
Ph. 250-728-3419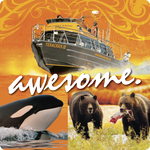 Come join us on one of our whale watching or grizzly bear viewing tours along the Discovery- and Inside Passages of the East coast of Vancouver Island
Campbell River, V9W 2C3, 760 Island Highway
Ph. 1-866-501-ORCA (6722 or 250-287-7008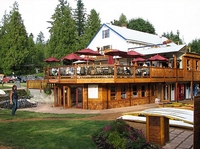 Historic Hotel & Resort with Cottages, RV Park, Campground, full-service marina, full licensed restaurant & pub, housekeeping cottages and gift shop
Quadra Island, V0P 1H0, PO Box 100 Heriot Bay
Ph. 1-888-605-4545 or 250-285-3322
Operating in the pristine coastal environments of Tofino and Ucluelet, Jamie's Whaling Station has been captivating adventure seekers from around the world since 1982 – we are the west coast's Original whale tour company! Our waters boast grey and humpbac
Tofino, V0R 2Z0, 606 Campbell Street
Ph. 1-800-667-9913 or 250-725-3919
Adventure Tours in Western Canada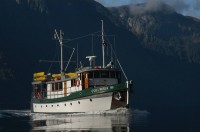 Eco Tours: Kayak, Natural History, First Nations, Settler's History
Heriot Bay, V0P 1H0, Box 30
Ph. 1-888-833-8887 or 250-202-3229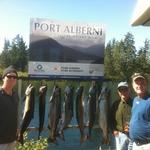 The Alberni Inlet provides some of the best salmon fishing in the World.
Port Alberni, BC, P.O. Box
Ph. 1 888 214 7206 or 250 724 2502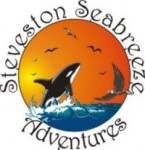 Vancouver Ecological Tours
Richmond, V7E 1T7, BLDG #43 - 12551 No 1 Rd.
Ph. (604) 272-7200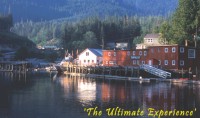 The Ultimate Experience
Telegraph Cove, V0N 3J0, P.O. Box 2-2
Ph. 1-800-665-3066 or (250) 928-3185
The Best Salmon Fishing in the World
Richmond, V7B 1B8, 4540 Cowley Crescent
Ph. 1-888-432-6666 or (604) 233-9232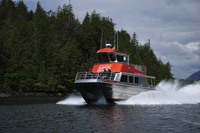 Tofino Whale Watching, Bear Viewing, Hot Springs Cove Tours & Seasonal Safaris West Coast Aquatic Safaris is accessible for all. We look forward to welcoming you aboard! First Class Adventure, Excellent Value
Tofino, V0R 2Z0, 101 Fourth Street, PO Box 967
Ph. 1-877-594-2537 or 250-725-9227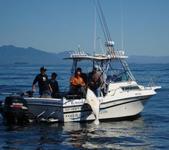 A true West Coast experience with exciting action in a safe and comfortable vessel. Your friendly guide tailors your trip for all levels of skill. Coast Guard approved and fully insured. Care of your catch is priority and credit cards are accepted.
Ucluelet, V0R 3A0, Box 906
Ph. 1-866-910-3343 or 1-250-240-2780