Why am I writing and what inspired me?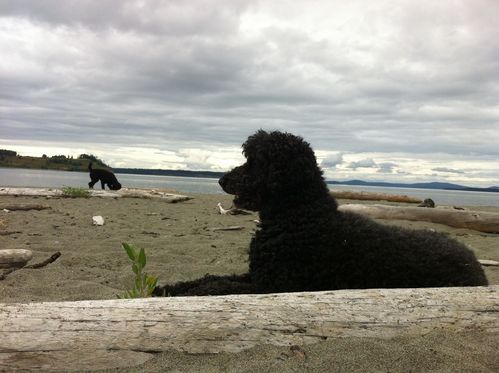 How did it come to this? Why am I writing? What inspired me?
I guess the first thing I ever wrote that is similar to what I am intending to do is writing a travel journal when we took the night train from Munich to the North Sea in Germany. Our kids were then 2 and 4 and we went on this adventure with our neighbours and their two children 6 and 8, and my husband's younger brother.
It was a lot of fun, often hilarious experiences, and very relaxing at the same time. Having no car, just rented bikes, and a toy wagon for transportation on a little island surrounded by dunes and sandy beaches sure adds relaxation to your vacation. We went out for dinner a couple of times as a "treat", that's what we adults had in mind. When the food finally arrived all kids had disappeared, playing under the table, and at this point almost falling asleep.
Ever since I had this sitting in the back of my head that I wanted to write something and I am still not sure where this will lead me.
My beloved dog died this year and it was a heart wrenching experience to make the decision that she needed to move on. I wrote a memorial about her and sent it to everyone who had known her. Lots of people reported back that they just loved it and many couldn't hold their tears back. I promised myself and in memory of my most amazing dog then that I would start to write. Because if you don't start you are for sure never going to get anywhere, like with everything in life.
So today, finally is the day.
I intend to write about authentic experiences, genuine adventures, true recommendations and everything that makes British Columbia and the West Coast so special. This might not always include high profile adventure tours, expensive restaurants, first class hotels and the usual tourism/commercial combination that you can find everywhere but rather experiences from the heart, anything that I feel will be worth sharing. I hope you will enjoy it and I'd love to hear from you.
Posted by: Sibylle Zilker Saturday Sep 07, 2013 13:35
Categories: from the heart | Tags: westcoast