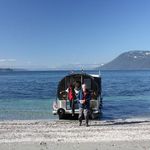 We were lucky! I think we caught the most beautiful day in February for our trip to Portland Island. The island is part of the Gulf Islands National Park Reserve and is easily reached by a passenger ferry departing from Canoe Cove. Of course you can also use your own boat or kayak over to the ...
Posted by: Sibylle Zilker Tuesday Mar 18, 2014 09:59
Categories: Adventure, Kids & Family, Wildlife & Nature | Tags: day trip, hiking, National Park, Sidney, trails, victoria, water taxi, westcoast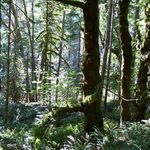 Had a fabulous hike on Thursday with Marion from "Trek and Treats". The Galloping Goose is always amazing, even in November. We hiked through ancient rain forest, watched an otter diving, splashing, and hunting for salmon in Veitch Creek and even found mushrooms along the path. In this ...
Posted by: Sibylle Zilker Friday Nov 08, 2013 15:19
Categories: Adventure, Wildlife & Nature | Tags: East Sooke, hiking, Metchosin, mushrooms, otter, rain forest, salmon, trails, victoria, westcoast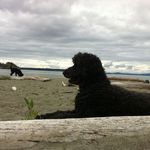 How did it come to this? Why am I writing? What inspired me? I guess the first thing I ever wrote that is similar to what I am intending to do is writing a travel journal when we took the night train from Munich to the North Sea in Germany. Our kids were then 2 and 4 and we went on this ...
Posted by: Sibylle Zilker Saturday Sep 07, 2013 13:35
Categories: from the heart | Tags: westcoast