The best place to eat Pho in Victoria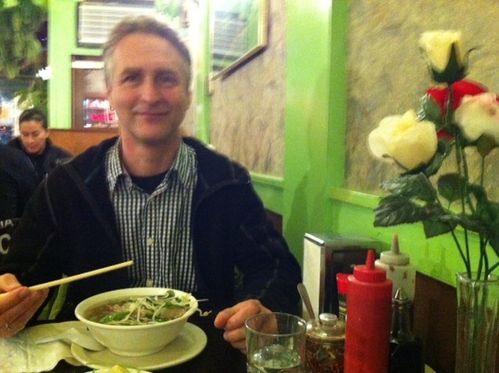 It's getting colder every day now, winter is approaching. As much winter as Victoria will get of course: maybe 1 or 2 days of snow this year? Anyhow it feels chilli – at least it's a lot more humid than the prairies. And this humid chill creeps into your bones, right in time for Halloween.
This is the perfect time for pho – hot, tasty, vietnamese noodle soup with basil, bean sprouts, lime, and chili. There are lots of options at
Pho Vy on Fort Street
, my favourite pho place in Victoria. They have friendly staff, are a family business and the walls are lime green and yellow! So much fun in the dark months ahead. No fancy place but good food!
Today I had pho with brisket and it was exactly what I needed. I also like their salad rolls (Goi Cuon) with peanut sauce and the papaya salad. And best of all, if you take the large pho, you'll have left overs for tomorrow!
Posted by: Sibylle Zilker Tuesday Oct 29, 2013 18:12
Categories: Food & Drink | Tags: ethnic food,, restaurant, victoria