Bear Hill Hike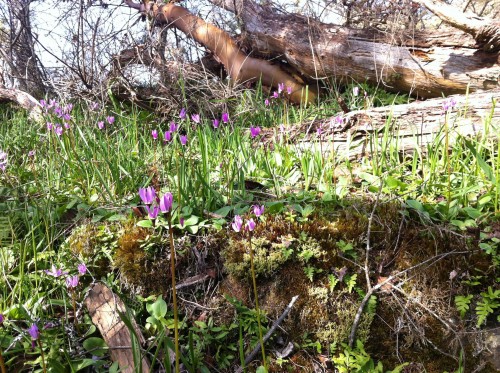 An awesome place to go for a short hike in Saanich is Bear Hill.
Early April, when the wild flowers are already out, there are a lot of great spots to go for a hike around Victoria.
When you hike up Bear Hill though you can almost be certain to always see eagles, ravens, turkey vultures, and hummingbirds. It's especially enchanting in early spring, walking through carpets of fawn lilies and shooting stars, chocolate lilies and camas, and listening to the song sparrows and golden-crowned kinglets.
Once you get to the top you have an incredible view all over the Saanich Peninsula, up to the ferries at Swartz Bay, Mt. Newton, Brentwood Bay, and over to Island View Beach with
Mt. Baker on the horizon. You almost want to spread your wings and fly with the eagles, it's so inviting.
There are several access points to the park from Central Saanich Road, and Brookleigh Road but the small parking lot is located on Bear Hill Road, just off Oldfield Road by
Dan's Farm
. Stop for a cup of coffee and a cinnamon bun at Dan's Farm, buy organic groceries, or feed the goats. An awesome stop for the whole family.
hiking time to summit: around 30 minutes
www.gobc.ca/bcparks/vancouver-island-and-gulf-islands/bear-hill
Posted by: Sibylle Zilker Monday Apr 21, 2014 12:14
Categories: Kids & Family, Wildlife & Nature | Tags: bird watching, day trip, farms, hiking, organic food, regional park, Saanich, Sidney, spring flowers, trails, victoria