The sky is brilliant blue against the magnificent snow-covered peaks that tower above. It is minus 10, but the hike up through the forest has made you so warm you are down to a thin base layer. Your destination for the night is above tree-line, and it will be very cold, but all you need to be comfortable – shelter, food, warmth – is on your back. At night, in the clearness of the winter sky, the stars and moon will reflect brilliantly against the blanket of snow.

For those that prefer all the comforts of home while still enjoying the wintertime outdoors, RV camping is a great choice. There are many RV campsites open year-round in British Columbia and many RV owners who have taken the time to winterize their RV's. If your unit is not yet ideal for winter camping, talk to a RV specialist and discuss how you can make your home on wheels as suited to snow as it is to sun.

Whether you park your camper in one of the many RV parks in the province and enjoy the snow-covered trails, dig a snow cave, huddle in a tent, or settle into one of many wilderness huts in the British Columbia back country, time spent winter camping will create memories that last a lifetime. Winter camping can be an adventure, but there is perhaps nothing in the world that puts one closer to nature in the raw than camping in winter. The simplicity of the world, reduced to black and white, gives room for the mind to imagine and the soul to breathe.

Holiday Park Resort ~ Canada's Largest 4 Season RV & Condo Destination for Travel, Vacation & Retirement.
Kelowna, V4V 1P4, 1 - 415 Commonwealth Rd
Ph. 1-800-752-9678 or 250-766-4255
South of Nanaimo are 40 acres where you can sleep in the fresh air and awaken to the sounds of nature. Spend a day at the swimming hole, or loaf by the pond with your fishing rod. Take a nap, play beach volleyball, & finish the day around an open fire.
Nanaimo, V9X 1R2, 1092 Spruston Road
Ph. 8663112267 or 2502451169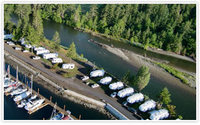 Surround yourself with sand, sea, river, mountains and forest!
Black Creek, BC, 9082 Clarkson Avenue
Ph. 877 239-5600 or 250 337-5600
Five acres overlooking stunning Silva Bay!
Gabriola Island, V0R 1X7, 3350 Coast Road
Ph. 250 247 8931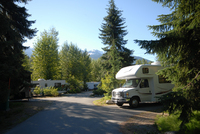 Whistler, Naturally.
Whistler, V0N 1B8, 8018 Mons Road
Ph. 604.905.5533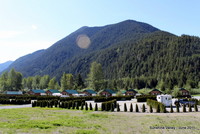 Located near Hope, BC, Sunshine Valley RV Resort & Cabins is a year round vacation destination.
Sunshine Valley, V0X 1L5, 14850 Alpine Blvd.
Ph. 604-869-0066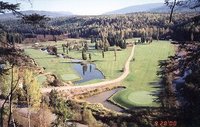 RV Camping in the wilderness. Come join our full service sites, hot showers, laundry, mineral springs pool, golfing, hiking, fishing, relaxing in the wilderness!
Clearwater, V0E 1N1, 6624 Clearwater Valley Rd
Ph. 250-674-0009