British Columbia has been home to hundreds of Aboriginal Cultures, bands and tribes. Their abundance of spiritual celebration and ritual is best understood and documented in their arts.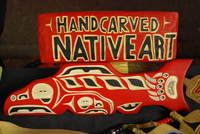 1st Nations West Coast Native Art, Street Carver Dennis Rose I sell and carve my art on the streets of Vancouver. You can choose from carved cedar feathers, pendants, placques and sculptures. Ask me to carve you something and come back later to pick it up
Vancouver, V6E 1A9, Robson Street
Ph. (604) 719-1325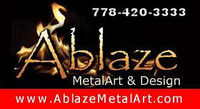 Decorative metal art, for home, business &/or garden including, authentic Native art & more…. "If you can dream it, we can make it".
Campbell River, V9H 1K2, 177 Crawford Road
Ph. 778-420-3333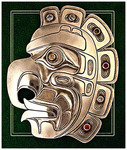 Kwakwaka'wakw artist Harold Alfred, Artworks include Stained Glass, Totem poles, jewelery and carvings.
Victoria, v8p 4e9, 3675 McIvor Ave.
Ph. 250.721.5788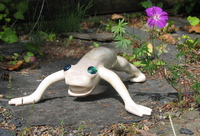 Bruce Bird is a self taught Metis antler carver who lives in Qualicum Beach on Vancouver Island. Bruce carves unique antler sculptures and drum beaters.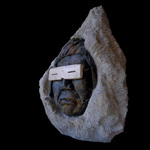 Arctic Artists Gallery
Nanaimo, V9X 1E5, 980 Nanaimo River Road
Ph. (250) 591-7885

Artist / Designer Kim Hunter / Indigo
Vancouver, V6G2R9, 990 Lagoon Drive
Ph. 604 682 7533
b. wyse , Bonny Graham-Krulicki, Chilliwack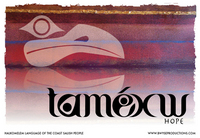 Aboriginal - Inspirational - Original Language Art & Prints of the Coast Salish People
Chilliwack, V2R 5P5, 124-86014 Vedder Road
Ph. 604-316-4866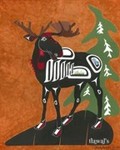 Native Art
Prince George, V2M 6N4, Moran Crescent
Ph. 250-277-1790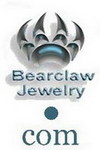 Bearclaw Custom Native Jewelry
Dewdney, V0M 1H0, Box 147
Ph. 604-814-2327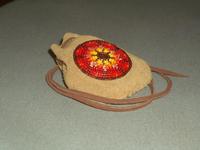 custom leather work, drum & rattle making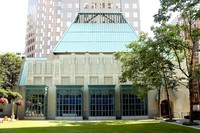 Vancouver's downtown centre for Aboriginal arts, culture, and learning
Vancouver, V6C 2G3, 639 Hornby Strteet
Ph. 604-682-3455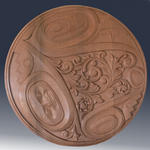 Blue Bird House Gallery Set amongst the rolling hills above Rock Creek,Blue Bird House Gallery represents the works of Metis artist Terry Jackson.His works woodcarving ,fine porcelain ,stoneware art tiles and one of a kind carved sterling silver works
Rock Creek, V0H1Y0, 4570 highway #3, box 265
Ph. 250-446-2500
Lee Claremont, Kelowna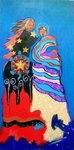 First Nations Contemporary Artist
Kelowna, V1Z 1P1, 730 Kerry Lane
Ph. 250 769 3283
Brian Clark Artist
Mill Bay, V0R 2P4, 2246 Benko Road
Ph. 250-715-5107
First Nation Master Carver, Herb Rice, carves beautiful solid wood custom made doors, totems, masks, talking sticks, walking sticks, panels and plaques.
Cowichan Bay, V0R 1N1, 4705 TransCanada Highway
Ph. 250-701-3086
1st Nations West Coast Native Art: Richard Cochrane is of mixed blood, Metis, and has been carving since 2002. He has carved in wood, antler, stone and jewellers wax, carving large masks and small miniatures in fine detailed craftsmanship.
North Vancouver, V7P3N3, Bridgman Avenue
Ph. 604 980 3378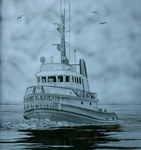 Sandblasted Designs on Glass, Handcrafted one-of-a-kind Architectural ArtGlass. Doors, windows, interior partitions feature panels, stair panels and more. Abstract to photo realism. Commercial and Residential.
Fanny Bay, V0R1W0, Holiday rd
Ph. 250-338-0221
First Nations Nuu-chah-nulth Artist Custom Jewellery & Wood
Port Alberni, V9Y 8Y4, 7133A Pacific Rim Highway
Ph. 1-888-324-8745 or 250-723-3425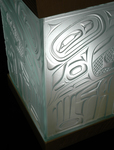 Edzerza Gallery
Vancouver, V6J1H2, 1536, West 2ND Avenue
Ph. 604 731 4874
Native Arts
Vancouver, V6J1H2, 1536, West 2nd Avenue
Ph. 6047314874